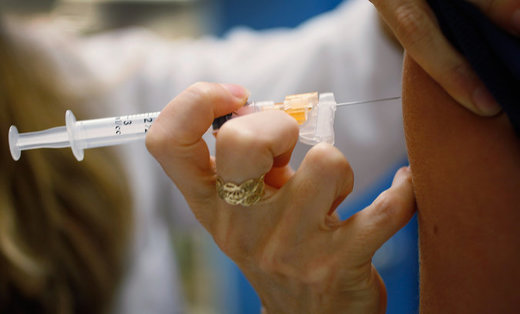 A vaccine introduced a decade ago to combat the sexually transmitted virus that causes
cervical cancer
has already reduced the virus's prevalence in teenage girls by almost two-thirds,
federal
researchers said Monday.
Even for women in their early 20s, a group with lower vaccination rates, the most dangerous strains of
human papillomavirus
, or HPV, have still been reduced by more than a third.
"We're seeing the impact of the vaccine as it marches down the line for age groups, and that's incredibly exciting," said Dr. Amy B. Middleman, the chief of adolescent medicine at the University of Oklahoma Health Sciences Center,
who was not involved in the study
. "A minority of females in this country have been immunized, but we're seeing a public health impact that is quite expansive."
The news is likely to serve as a welcome energizer in the tumultuous struggle to encourage HPV vaccination in the United States
.
Despite the vaccine's proven effectiveness,
immunization
rates remain low
— about 40 percent of girls and 20 percent of boys between the ages of 13 and 17. That is partly because of the implicit association of the vaccine with adolescent sexual activity, rather than with its explicit purpose:
cancer
prevention. Only Virginia, Rhode Island and the District of Columbia
require
the HPV vaccine.
Comment:
Immunization rates remain low because there
is not
proven effectiveness with the Gardasil vaccine:
Merck's former Doctor: 'Gardasil is the greatest medical scandal of all time'
It is simply no longer possible to believe much of the clinical research that is published, or to rely on the judgment of trusted physicians or authoritative medical guidelines. I take no pleasure in this conclusion, which I reached slowly and reluctantly over my two decades as an editor of The New England Journal of Medicine" -(source) Marica Angell.

She is a physician and author, along with being the first woman to serve as editor-in-chief of The New England Journal of Medicine - regarded as one of the most prestigious peer-reviewed medical journals in the world.

"The full extent of the Gardasil scandal needs to be assessed: everyone knew when this vaccine was released on the American market that it would prove to be worthless. Diane Harper, a major opinion leader in the United States, was one of the first to blow the whistle, pointing out the fraud and scam of it all.

I predict that Gardasil will become the greatest medical scandal of all time because at some point in time, the evidence will add up to prove that this vaccine, technical and scientific feat that it may be, has absolutely no effect on cervical cancer and that all the very many adverse effects which destroy lives and even kill, serve no other purpose than to generate profit for the manufacturers.

Gardasil is useless and costs a fortune! In addition, decision-makers at all levels are aware of it! Cases of Guillain-Barré syndrome, paralysis of the lower limbs, vaccine-induced MS and vaccine-induced encephalitis can be found, whatever the vaccine." (source) - Dr. Bernard Dalbergue
Recent efforts have focused on recommending the vaccine for children ages 11 and 12, when their
immune response
is more robust than that of teenagers and when most states require two other vaccines — one for
tetanus
,
diphtheria
and
pertussis
, and the other for meningococcal disease. The
immunization
rates for those vaccines are 80 percent and higher.
Comment:
The recent efforts focused on recommending the HPV vaccine
for
children ages 11 and 12
is really for the benefit of big pharma!
Gardasil: Medical torture and child abuse by Big Pharma
There is something deeply wrong with a giant pharmaceutical company spending hundreds of millions of dollars to manipulate women and influence legislation in order to generate a revenue stream of billions of dollars a year for itself at the expense of a gullible public. Because what is wrong with Gardasil isn't just that it is unnecessary. Gardasil is possibly the most dangerous vaccine on the market, with the potential to injure, maim, or even kill the children who receive it. The program of coercion to vaccinate every 11- to 26-year-old girl with Gardasil is relentless. This vaccine is given not just in doctor's offices, where doctors have been known to "fire" noncompliant patients, but in schools and colleges, where the pressure on girls and their parents to conform can be extreme. These institutions all have quotas - sometimes including financial rewards - and they are anxious to prove high rates of compliance.8 But there is no informed consent prior to vaccination, so most of these girls and their parents have no idea what they are risking by agreeing to vaccination with Gardasil. While Merck, the FDA, the CDC and the medical establishment all deny that there have been serious, life-altering adverse events associated with Gardasil, the fact is that compared with the mandated vaccines which are given with greater frequency, Gardasil still has the most adverse events reported to the Vaccine Adverse Event Reporting System (VAERS) of any vaccine. And since reporting of adverse events is not mandatory in the US (although outbreaks of so-called vaccine-preventable illness are), it is likely thatonly 10% even get reported!9
About 14 million Americans become
infected
with HPV each year,
and the vast majority will clear the virus
. But some strains persist and can cause
genital warts
, as well as cervical, anal, penile, and mouth and throat
cancers
. The American Cancer Society
estimates
that 4,120 women will die of
cervical cancer
this year.
The latest research, published in
Pediatrics
, examined HPV immunization and infection rates through 2012, but just in girls. The recommendation to vaccinate boys became widespread only in 2011; they will be included in subsequent studies.
Comment:
A New England Journal of Medicine editorial published in 2008 titled
Human Papillomavirus Vaccination — Reasons for Caution
can be read
here
.
The Researchers point out that:
[..]the real impact of HPV vaccination on cervical cancer will not be observable for decades.[..]

[..] will the vaccine ultimately prevent not only cervical lesions, but also cervical cancer and death? How long will protection conferred by the vaccine last? Since most HPV infections are easily cleared by the immune system, how will vaccination affect natural immunity against HPV, and with what implications? How will the vaccine affect preadolescent girls, given that the only trials conducted in this cohort have been on the immune response? The studies with clinical end points (i.e., CIN 2/3) involved 16- to 24-year-old women. [..]
So in other words, people who are getting the vaccine now are guinea pigs. This applies especially to younger girls. The documentation of the real impact of HPV vaccinations are becoming 'observable':
Using data from a survey by the
Centers for Disease Control and Prevention
, the study examined the prevalence of the virus in women and girls of different age groups during the pre-vaccine years of 2003 through 2006. (The vaccine was recommended for girls later in 2006.) Researchers then looked at the prevalence in the same age groups between 2009 and 2012.
By those later years, the prevalence of the four strains of HPV covered by the vaccine had decreased by 64 percent in girls ages 14 to 19. Among women ages 20 to 24, the prevalence of those strains had declined 34 percent. The rates of HPV in women 25 and older had not fallen.
"The vaccine is more effective than we thought," said Debbie Saslow, a public health expert in HPV vaccination and cervical cancer at the
American Cancer Society
. As vaccinated teenagers become sexually active, they are not spreading the virus, so "they also protect the people who haven't been vaccinated," she said.
There are several obstacles to greater coverage rates in the United States. In other countries, the vaccine is often given in two doses, particularly to girls younger than 15. In the United States, it is given in three doses. An immunization
advisory committee
to the C.D.C. will convene this week to learn more about the efficacy of the lower dose.
And in some countries, the vaccine is either mandatory or at least offered at school, its cost covered by a national health care system, making administration more streamlined and comprehensive. Such measures helped
Rwanda
achieve a 93 percent immunization rate in girls. Australia, where the vaccine is offered free to schoolgirls, accomplished
a 92 percent reduction
in
genital warts
in women under 21, a study showed.
Comment:
Note the author does not mention the countries that have halted HPV vaccinations because of serious side effects! Keep in mind that the U.S. government holds patents on Gardasil and earns royalties from the sales of the HPV vaccine. So why not continue, amongst damning evidence coming out weekly, to push this vaccine on unsuspecting young girls:
Why is the CDC ignoring explosion of Recorded HPV Vaccine injuries, as other countries move to take protective action?
As Norma shares the data and science below, in response to the government doctor's comment "we aren't finding any concerning problems" regarding Gardasil, also keep in mind the following facts:
But in the United States, the vaccine is largely optional.
"Multiple studies have shown the importance of a strong provider recommendation for increasing vaccination coverage," said Dr. Lauri E. Markowitz, a medical epidemiologist at the National Center for Immunizations and Respiratory Diseases, a division of the C.D.C., who led the research for the latest study.
But
studies
show that many primary care providers either do not recommend the vaccine to parents and patients or do so halfheartedly. Some doctors are reluctant to discuss the vaccine because the conversation may dance uncomfortably around sexual activity. They may want to use their limited appointment time for health topics that parents may be more willing to engage.
To try to shift focus to the vaccine's purpose, last month
dozens of cancer centers endorsed
the HPV vaccine as a safe, effective prevention strategy against types of
cancer
that result in 27,000 cases a year. The latest HPV vaccine protects against nine strains of the virus.
Comment:
Not surprising that dozens of cancer centers endorsed the HPV vaccine as safe and effective. Just last year the
FDA approved another Gardasil vaccine
!
As the HPV vaccine controversy continues to smolder, the U.S. Food and Drug Administration (FDA) has given the green light to a new version of the controversial vaccine - this one containing an alarmingly high level of aluminum, a known neurotoxin. In its hurry to approve the vaccine, the FDA also bypassed a critical safety step.
Many doctors are pressing for primary care providers to strongly recommend the HPV vaccine in tandem with the other two that preteen children now typically receive.
"The infection is sexually transmitted, but that doesn't need to be part of the conversation," said
Dr. Joseph A. Bocchini Jr.
, a pediatric infectious disease specialist at Louisiana State University in Shreveport.
"If a parent is concerned, physicians should be prepared to talk about it," said Dr. Bocchini, a former chairman of an HPV vaccine working group for the committee that advises the C.D.C. on immunizations. "But we don't really discuss how people become infected with every vaccine-preventable disease."