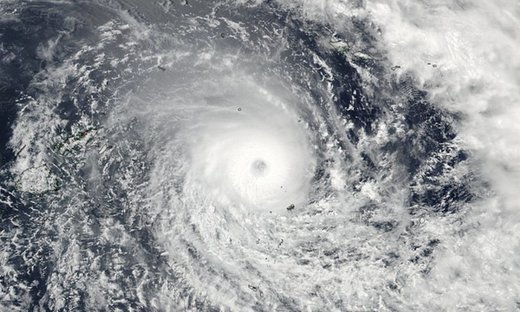 Residents told to take precautions and flights cancelled as island faces arrival of intense tropical storm
Flights to and from Fiji were cancelled on Saturday as the country braced itself for the arrival of Cyclone Winston.
Winston was forecast to pass between the two main populated islands on Saturday night. Many domestic and international flights were cancelled as authorities urged people to secure their homes and not venture outside.
Fiji's prime minister, Frank Bainimarama, said on Saturday that the island's evacuation centres were operational and the government was prepared to deal with a potential crisis.
"As a nation we are facing an ordeal of the most grievous kind," he wrote. "We must stick together as a people and look after each other."
The US government's typhoon warning centre said gusts from the cyclone were reaching 360km/h (224mph).
The
Fiji Times
newspaper reported some damage, including a roof being blown off one home, from some of the nation's smaller islands to the east as the cyclone began to strike there.
The Times
said there had been a run on supermarkets and stores as people stocked up on essential supplies, while a 5pm curfew had been placed on all public transportation, including buses, minibuses and taxis.
Many people were hoping the cyclone's path would remain as forecast and thread between the islands of Vanua Levu to the north and Vitu Levu to the south, which is home to the capital Suva, so that both islands would avoid a direct hit. Fiji is home to about 900,000 people.
Airlines operating in the region including Virgin Australia, Jetstar, Qantas and Fiji Airways all reported cancelled flights or altered timetables, with passengers told to consult their carrier for information.
Winston, which has intensified to a category-five storm, has already lashed Tonga.
Source: Associated Press and AAP