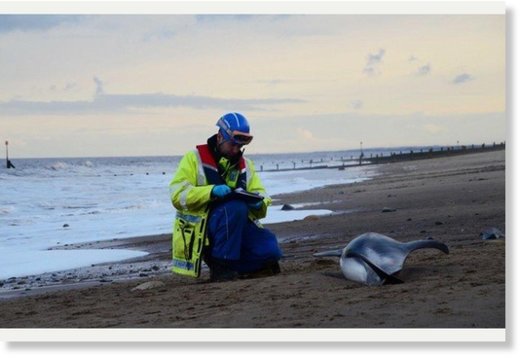 A dolphin washed up dead on the east coast, just days after a number of whales were stranded along the Lincolnshire coastline.
Hornsea Coastguard was called out to the beach in East Yorkshire at about 3pm on Friday afternoon after reports of a whale or porpoise on the beach.
It was later identified as a white beaked dolphin, and details were passed to the Natural History Museum to arrange collection.
A spokesman for Hornsea Coastguard said: "Team paged by CGOC Humber to a report of a whale/porpoise on the beach north of Hornsea.
"The team responded and after a short beach search located the mammal on the beach. The mammal was identified to be a white-beaked dolphin which was unfortunately deceased.
"A description, grid reference and measurements were recorded and passed to CGOC Humber who will notify and pass the details on to the Natural History Museum and arrange collection."