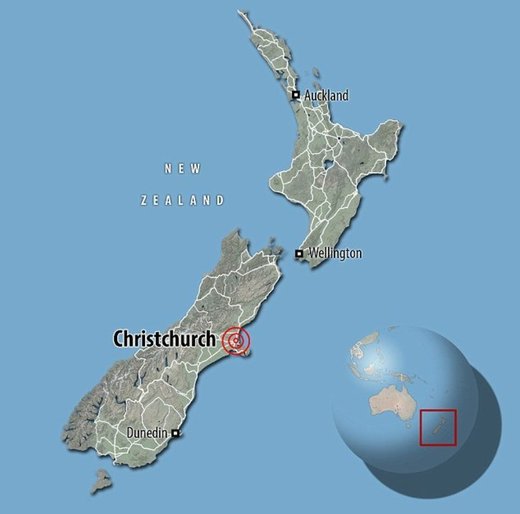 Paramedics responding to calls for help after 5.9 magnitude earthquake hits New Zealand's South Island, which is still recovering from a fatal quake in 2011
Several people have been injured and a cliff has collapsed into the sea on New Zealand's South Island after a "severe" magnitude 5.9 earthquake struck close to Christchurch, which is still rebuilding following a devastating tremor in 2011.
The earthquake hit shortly after 1pm (11am AEDT) on Sunday, according to GeoNet, which monitors seismic activity in New Zealand.
It was centred 15km east of Christchurch and was 31km deep.
Paramedics were responding to a number of calls from people who fell over during the tremor. One building in the city was evacuated after items tumbled down and computer monitors smashed.
The shaking also dislodged part of a cliff in Taylor's Mistake, to the south-east of the city centre. The dramatic moment was captured by Thomas Wieberneit, who posted it on Twitter.
The shaking produced a dust cloud in Sumner, a suburb on the outskirts of Christchurch.
A spokesman for Sumner Surf Life Saving Club told AAP that roads along the beach front and across to the popular Taylor's Mistake surf beach initially remained open, and he had not heard reports of anyone injured by falling rubble.
The surf clubs at both beaches intended to form a sea patrol to check no sailors or walkers had been caught by falling rubble around the cliffs.
Everyone was "a bit freaked out", he said.
"Grabbed the TV to stop it falling, books off, car alarms set off by it in the neighbourhood," Belinda McCammon tweeted.
Other people reported roof tiles falling off a building and books falling from shelves.
"Suddenly the air all full of sirens and birds," another person tweeted.
Geonet rated the quake as severe. It was one of the largest since 2011, and people from across the South Island reported feeling the ground shaking. Aftershocks of magnitude 3.5 continued to rumble across the city during the afternoon.
The earthquake comes just a week before the fifth anniversary of the 6.3 magnitude February 22, 2011 quake that killed 185 people and flattened large swaths of the city, including the cathedral. Christchurch is still in the process of rebuilding.
New Zealand sits on the "Ring of Fire," an arc of seismic faults around the Pacific Ocean where earthquakes are common.
Australian Associated Press contributed to this report