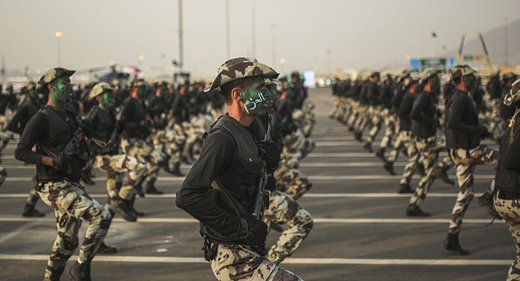 At the risk of fueling sectarian tensions, Sunni-majority countries Saudi Arabia and Turkey plan to conduct joint military exercises.
According to Turkish diplomats, Ankara is planning to carry out military exercises with Riyadh in the coming year. The goal is for the two nations to "cooperate against common threats."
"The planned exercises do not particularly aim at any specific threat," said a senior diplomat, according to Defense News.
While the specific "threat" is not mentioned, some analysts are concerned that military coordination between the region's largest Sunni countries will be viewed through the lens of a broader sectarian conflict.
"This is clearly a move that would provoke an Iranian response, in some way or another," one analyst, speaking on condition of anonymity, told Defense News.
Both nations are already supporting the Syrian opposition against the Shia government of Bashar al-Assad, and both have also shown signs of sending troops into Syria.
Ankara has been increasing its troop presence along the Syrian border, leaving Russia concerned that an invasion could be imminent.
"We have good reasons to believe that Turkey is actively preparing for a military invasion of a sovereign state - the Syrian Arab Republic," Russian Defense Ministry spokesman Igor Konashenkov told reporters. "We're detecting more and more signs of Turkish armed forces being engaged in covert preparations for direct military actions in Syria."
Riyadh is also showing increased signs of invading Syria. Last Thursday, the Saudi embassy in Washington DC tweeted that the Saudi Ministry of Defense stands ready to deploy ground troops to Syria to aid in anti-Daesh coalition efforts.
According to Saudi officials, speaking on condition of anonymity, such a scenario would involve "thousands of special forces," and would most likely be conducted "in coordination with Turkey."
This possibility has been strongly criticized by analysts.
"If Ankara and Riyadh invade Syria, they'll be supporting [Daesh] and other terrorist groups against Assad," activist Stephen Lendman wrote for Global Research.
Writing for the Fiscal Times, journalist Patrick Smith also pointed out stressed that such action would be "rampant with complications."
"So is the increasing military involvement of the Turks, who are Washington's other regional ally in the coalition against....against who knows whom? It's either [Daesh], as declared, or Damascus - as is cynically evident on the ground."
Turkey and Saudi Arabia are also both part of an effort to create an "Islam Army," ostensibly aimed at combating terrorism in the region and consisting of 34 Sunni Islam nations.