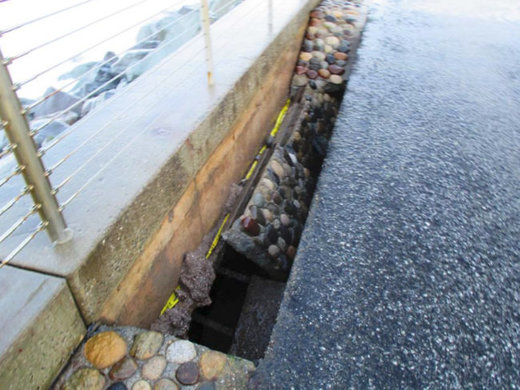 Pacifica residents are feeling on edge Friday morning now that a second sinkhole opened up along the seawall.
They say the huge waves that pounded them Thursday night and Friday morning aren't very comforting. The Pacifica seawall is taking a beating this winter, with El Nino giving
the waves here an intensity that surprises even long-time residents
.
"

In the eight to nine years we have been here, these are some of the largest waves we have seen break over the seawall

," resident Rex Roggasch said. The steady barrage of waves is taking a toll. The second sinkhole in three weeks broke open Thursday on the seawall, right outside Terri Jackson's apartment.
She's dealing with her own wave-created problems. Her carefully landscaped yard was wiped out by waves. "We enjoyed many a fire pit night out there, but now unfortunately it is reduced to sand and broken pieces of lumber," Jackson said. The city of Pacifica has asked the state for some emergency money but on Monday will also ask the city council for some emergency funds as well.
"The city will have to spend some of our own money," city manager Lorie Tinfow said. They have filled the second sinkhole with concrete. Engineers are working on a plan for the first one. But the city manager says Pacifica also needs to look at the big picture.
She estimates that everything west of Highway 1 is at risk.
"More than half our businesses are located in the coastal zone, all of our hotels except for one is located in the coastal zone, and of course about 5,000 people live in the coastal zone. We need a long-term plan," Tinfow said. "I am a little frightened. Last night was a bit scary, when you feel the building shake. It's pretty incredible," Jackson said.
The city council has a goal-planning session set for the end of February and the city manager plans to ask the council to start telling her what they want her to do to start making plans to save the city.