Nazi daggers, SS hats and a hangman's noose: On night patrol with the 'Soldiers of Odin', neo-Nazi led vigilantes vowing to 'keep Europe's women safe from migrant sex attacks'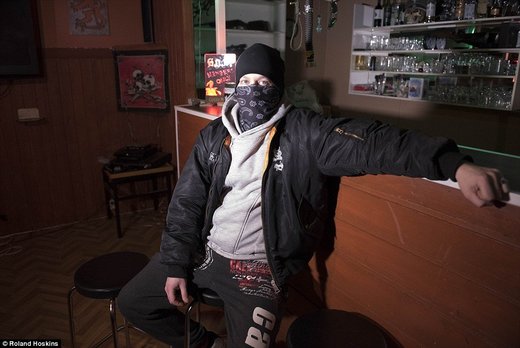 A gang of vigilantes led by a violent neo-Nazi go on night time 'migrant patrols' on the streets of Finland, with some talking of 'ethnic cleansing' in the wake of the country's mounting immigration crisis.
The self-styled 'Soldiers of Odin' march in a mob, wearing bomber jackets with their logo on the back. They have vowed to take direct action to 'protect their wives, girlfriends and children' after a migrant influx to the liberal Scandinavian country.
The gang - which claims to have cells across Europe - says it mobilised after a rise in migrant-related crime over the past 12 months because the Finnish government has 'screwed everything up'.
MailOnline gained exclusive access to the gang's leadership and visited its secretive headquarters - which was packed with Nazi memorabilia and White Supremacist propaganda.
We went on patrol with The Soldiers of Odin, described by some as far-Right fascists, as they pounded the streets of Kemi, western Finland, clad in black and led by a snarling mastiff dog towards the city's refugee centre.
'
The Government screwed things up so bad, and we are the consequence
,' says masked Jani, 27, one of the group's leaders, who works in a paper factory by day.

Comment: Indeed, this is true. The rise of fascism is the fault of the political class in Western societies.


'Politicians are allowing migrants to rape our women, and they are doing nothing about it. There will be a war on the streets, and we are ready to fight.'
Other comrades mutter darkly about 'ethnic cleansing'.
Founded in September by ex-convict Mika Ranta, a self-confessed, violent neo-Nazi, Soldiers of Odin is one of an increasing number of anti-migrant groups springing up across the continent.
The group insists it has no connection to the Swedish football 'firms' who went on the rampage in Stockholm last week, and says it has not been involved in violence. But according to police, it is just a matter of time.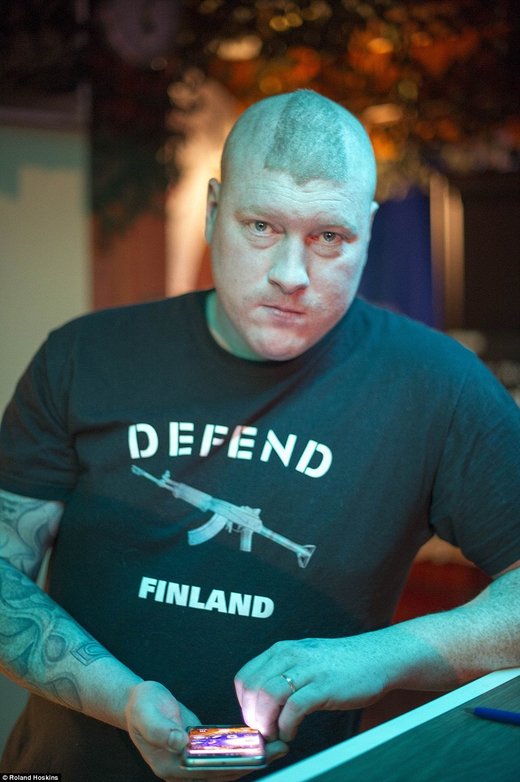 The vast majority of the Soldiers of Odin are working-class. MailOnline met a dustman, several steel workers, a mechanic, a truck driver and a factory worker, all of whom patrol regularly with the group.
Many more are unemployed, casualties of Finland's three-year economic downturn
.
Almost all of them have criminal records, with several having served lengthy prison sentences.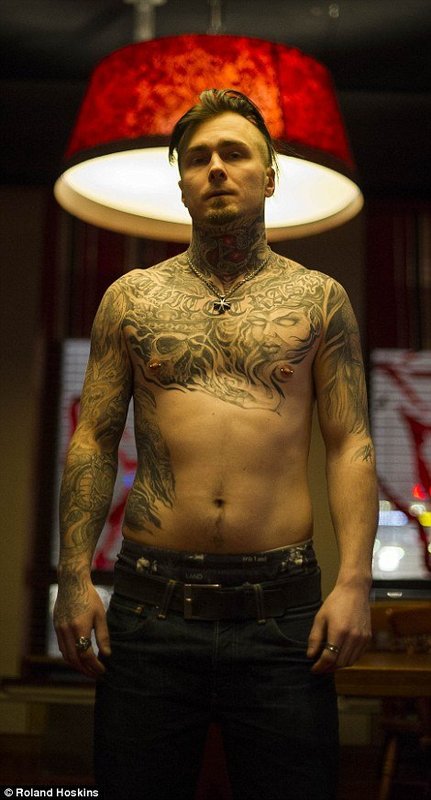 The criminal record belonging to Juha-Matti Kinnunen, 27, one of the Joensuu leaders, is typical. With 30 offences to his name, including fraud, robbery and violence, Kinnunen was also convicted of desertion from the military.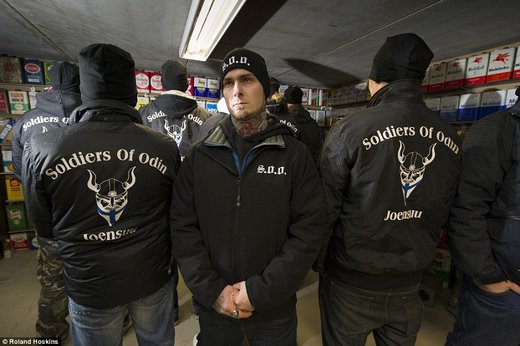 The group's number of Facebook likes, currently at almost 25,000, is growing daily. It claims to have 600 members in more than 25 cells across Finland, Sweden, Norway, Denmark, Poland, Germany, Estonia, Hungary - and even in Britain and the United States
.
Many local people find the group intimidating. In Joensuu - an eastern town with a history of skinhead violence, where Odins are banned from most bars - a female student stops her bicycle to tell MailOnline that she is 'suspicious' of the vigilantes as the patrol trudges past in the snow.
'They are criminals and they say they are doing the job of the police,' she says. '
Most people think they are neo-Nazis
.'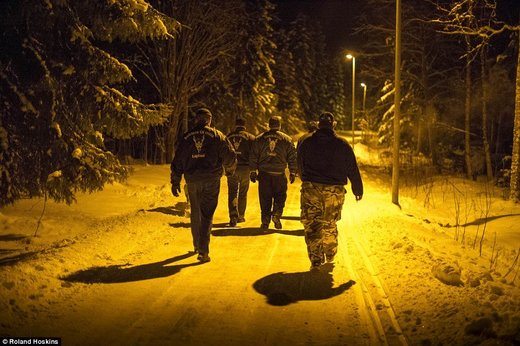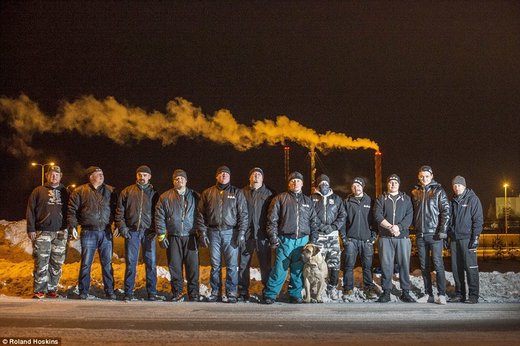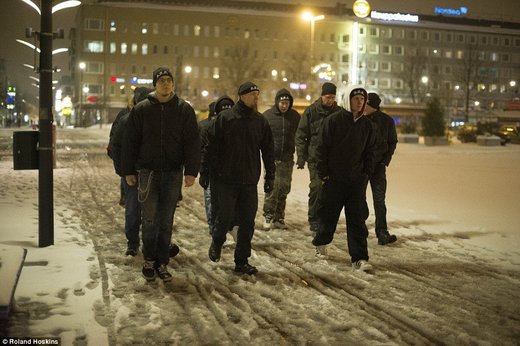 Unemployed ice hockey fan Lari Kuosmanen, 26, a heavily-tattooed leader of the Joensuu 'division', acknowledges his criminal record. But he says that 'everyone has made mistakes', and flatly denies that most rank-and-file Odins have any connection to neo-Nazism.
'As a group, we have not committed a single act of violence so far,' he says. 'We are trying to protect the people. The problem is, it's hard to be good guys if you look like bad guys.'
But when MailOnline later gained exclusive access to the group's headquarters, a converted bar in a suburb of Kemi, western Finland,
replica assault rifles and Nazi memorabilia were openly on display
.
This included a dagger with a swastika on the hilt, an SS officer's hat placed on top of a skull, and an Adolf Hitler T-shirt
. The ceiling was covered in camouflage netting, and large Finnish flags covered the walls.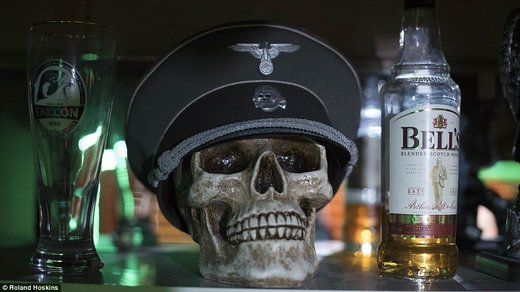 Posters and magazines for feared skinhead groups were found in the lavatory, and
a gas mask and hangman's noose were mounted above the bar
. A number of assault rifles - which, according to the Odins, were replicas - were also arranged on shelves.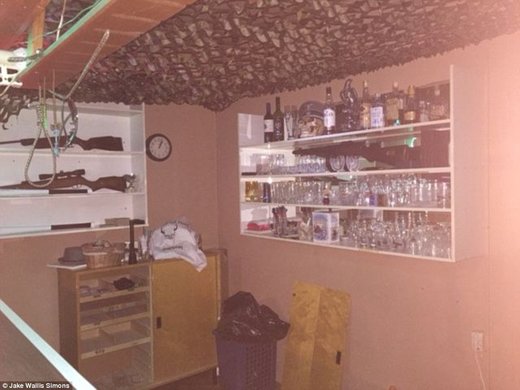 Members of the group claimed that the memorabilia 'belongs to our leader personally', and denied that the Soldiers of Odin is a neo-Nazi group. They admitted, however, that 'nobody has a problem' with the artefacts being present throughout the building.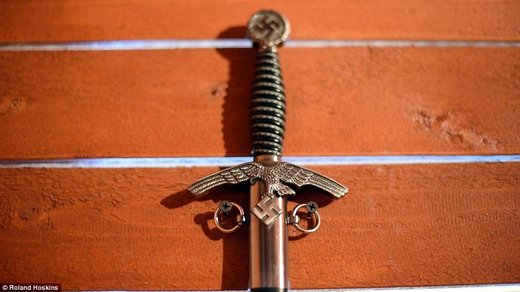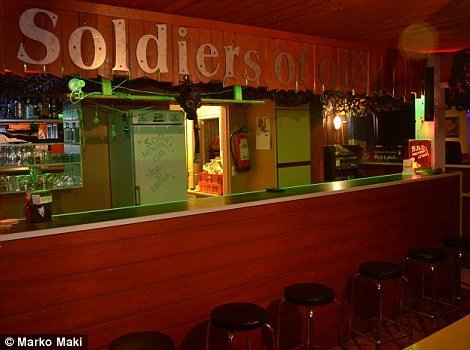 'If Odins obey the rules and do not cause trouble, their personal views don't matter,' said Jani.
However,
a number of members say they believed Nazism was 'not all bad',
and had 'good points' like a focus on 'protecting the national culture'. Some also share White Supremacist views.
'White people will not let Muslims destroy their culture,' says ex-convict Juha-Matti Kinnunen, 27, who is studying to be a mechanic at an adult education centre.
'If things carry on like this, ethnic cleansing will be necessary. Christianity and Islam have been at war for hundreds of years, and it won't stop until one side prevails.
We will fight to defend our culture, lands and people.'

Comment: Right there we see that, to be on their side, one must be on the side of the US-led Western empire, which of course provoked and manufactured the Islamist movement because it seeks to use extremists in all cultures.


Ranta himself, speaking exclusively to MailOnline over the telephone from Spain, is unapologetic about his radical views.
'The white population will be replaced by other races if we can't change the current situation,' he says.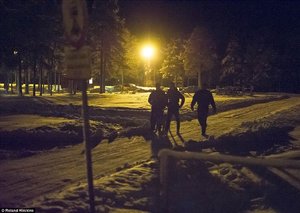 'Every race has good and bad features and that's why all of them are important.
Some races may have lower average IQ than us.
'White Supremacists are welcome to join the Odins, but only five per cent of Odins hold these views. On the other hand, not a single one strongly disagrees.'
Many of the Odins appear to have little connection to the far-Right, however. Back on patrol, father-of-three Mika Kemppainen, 39, a local chef, tells MailOnline that he joined the group after gangs of migrants took pictures of his children at school.
'It is disturbing to see how they are,' he says. 'I saw them taking pictures by the school fence every day when I came to collect my boy. When I tried to speak to them, they walked away. I could tell they had bad intentions.
'I have no problem with colour or culture. It is not a racist thing. We are just trying to keep the streets safe. We are not Nazis. We are just patriots of this fine country, Finland.'
As the patrol continues, a skinhead approaches the Odins from the shadows. He greets them with a brisk Hitler salute and shows off a swastika tattoo on his shoulder. The man walks alongside them for a while, then disappears. The Odins say they do not know him.
With snow continuing to fall, Jani pulls out his phone and shows MailOnline a picture of a dark-skinned man kissing a young girl. 'She is 12 years old,' he says, sucking on a cigarette.
'A local person passed us the picture and we tracked the girl down. We told her parents and they called the police. That is what we do and why we are needed. The police are doing nothing. That's why we're here.'
The patrol arrives at the migrant shelter in Takajarvi, Kemi. It is dark and quiet at first. Then faces of migrants appear at the windows, peering warily at the men and their mastiff straining on its leash.
One African man starts typing on his phone. 'In a few minutes, his friends will come down with iron sticks,' Jani says. 'It happens a lot. But with one call on a walkie-talkie, I can get 30 guys here and they will back off.'
The Odins loiter for a while, but no such gang appears. So they move on to the youth club where the alleged migrant harassment took place.
When questioned by MailOnline, neither the teenagers nor the youth leader know anything about it. But they are tolerant of the Odins, even as they gather outside the building in a pack.
'We are quite safe, so it's a bit silly. They look off-putting, but they don't bother anyone,' Marko Ketusman, the youth leader, tells MailOnline.
'Some of them are radicals, but a lot of them are husbands and fathers trying to process their worries about migrants. They are not a bad group.'
Finland, which has a population of 5.5 million and is experiencing its deepest recession in two decades, has received 32,000 migrants since the autumn, more than 10 times the previous year. Authorities are struggling to cope.
The country has been forced to open 105 migrant shelters. In August, there were just three.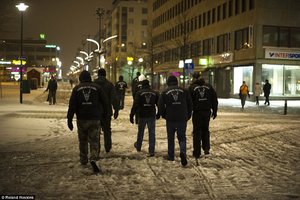 Fewer than 8,000 police officers are employed in the country, making it one of the smallest forces per capita in Europe
. And further cuts are on the way. Police chiefs have publicly warned that they are stretched to breaking point.
Last week, the Government announced that it will follow Sweden's lead and deport 20,000 migrants in chartered planes. It has also announced it will slash the €92 weekly handout to migrants, and has tried to discourage their arrival on Facebook.
But many fear that this is too little, too late. According to Vidhya Ramalingam, an expert on anti-minority violence at the German Institute on Radicalisation and De-radicalisation Studies (GIRDS), the rise of the Soldiers of Odin is a reflection of political failure.
'People feel that they cannot control the demographic change that is taking place around them,' she says. 'They feel that politicians are in crisis and they feel unsafe, so they're starting to take matters into their own hands.'
About 3,000 migrants, mainly Iraqis, have left Finland since October.
Senior police officers have derided the Soldiers of Odin as 'dangerous idiots' and 'fantasists', who cause many more problems than they solve.
'Even the gang's name is like something out of a fairy tale,' Seppo Korhonen, Deputy Police Chief of Eastern Finland, tells MailOnline. 'The police don't need them and the citizens don't want them.

Comment: They said exactly the same thing about the Thule Society and the mystical illusions of the early Nazis...


'They have nothing else in life. In a way, I feel sorry for them. But
most of them are violent criminals
, and if this goes on it is likely to explode.
'The police personnel is on the edge. Reducing our resources must stop.'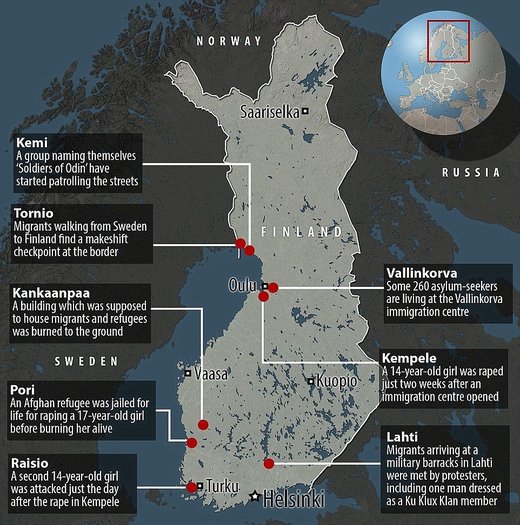 According to the police figures, fewer than 1,000 migrants are suspected of a crime. But the number of violent and sexual offences among migrants has increased;
this, officers say, may be due to the high number of young men in the immigrant community.
'We are aware of the repulsive phenomenon of group sexual harassment of women by foreigners,' says Korhonen. 'The safety situation in Finland is good, but I worry how we will manage to maintain that in the future.'
He adds that the police are trying to find a crime that the Odins are committing, as an excuse to shut them down. It is an offence to wear a mask in public in Finland, he says, and their behaviour around migrants may break stalking laws.
Law enforcement officials are already dealing with a wave of anti-migrant anger. When a 14-year-old girl was raped by an Afghan migrant in central Finland last year, furious protests took place in which activists wore
Ku Klux Klan outfits
.
Shortly afterwards, a migrant shelter in Kankaanpaa was burnt to the ground. There have also been impromptu checkpoints and provocative demonstrations along the border.
Police fear that the Odins will only exacerbate this mounting unrest.
'The cops say they hate us, but on the street they often give us the thumbs-up,' says Kuosmanen, as he continues to tramp through the snow. 'Some of them would probably join us if they could.
'Everyone knows that Islam is a violent religion. They are coming into our country like a Trojan horse. They are already here, and war is coming.'

Comment: The post-9/11 conditioning has been a complete success on this one.


But hasn't he committed violent crimes himself? 'I was defending my friends and myself from a guy who was attacking us with a bottle,' he says. 'It's different. Islam is twisted.'
The 'Odins', as they are colloquially known, enjoy significant local approval. Earlier this month, the Finnish Finance Minister, Alexander Stubb, said they should be banned. The group's Facebook page acquired 7,000 new likes overnight.
This support can also be seen on the streets. As the men move through the centre of town, drawing sidelong glances from many locals, a former Special Forces officer who gives his name as Timo stops to give them the thumbs-up. 'You are heroes in bomber jackets,' he says.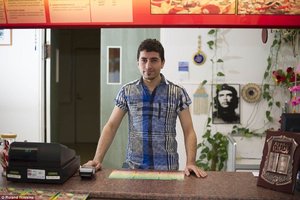 At three in the morning, as the patrol draws to a close, it is striking how few migrants have been present on the streets. The next day, when MailOnline interviews some asylum seekers, it becomes clear that the vigilantes are part of the explanation.
'We don't go into town any more, particularly in the evenings, because we're scared of getting beaten up by the Soldiers of Odin,' says Hasim Keles,
25, a Kurdish migrant who has found work in a pizzeria.
'I myself have been shouted at and cursed many times. Once, I had to be saved by a security guard.'
But he says he 'understands' the Odins' anger. 'Migrants who behave badly make problems for all of us,' he adds. 'They don't work, they just take social welfare, and they abuse women. Foreigners have to be careful how they act.'
Ari Kuronen, director of the Joensuu Red Cross refugee shelter, is deeply concerned.
'The Soldiers of Odin are making trouble,' he says. 'Even Finnish people are afraid. They are a racist organisation.
'There are only two possible results. Either they will stop patrolling, or there will be dangerous battles in the street. At the moment, nobody knows which way it will go.'