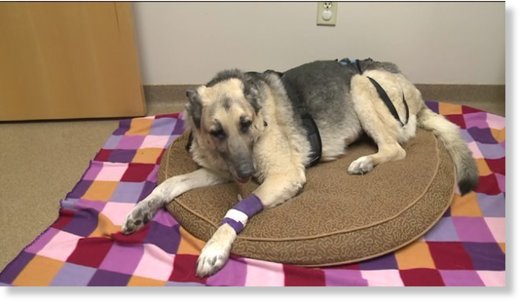 A dog missing for three days is found buried in a 5-foot sinkhole in Platte County.
Lisa Van Valkenburgh said she let her dog Maverick out Thursday evening to relieve himself and he wandered off. Van Valkenburgh said she and her family searched for her dog and found him Saturday afternoon.
"I walked this road. I walked down and back and walked on this side and came right here and heard a moan, like a bark," Van Valkenburgh said.
Maverick's owner said she couldn't believe her 12-year-old German Shepherd was buried alive. "That would swallow a child; that is a dangerous situation," she said.
When the dog was pulled to safety Van Valkenburgh said he was lethargic and dehydrated.
Greg Sager, the Platte County Director of Public Works said water caused the pipe to rust and the soil was washed away, creating the sinkhole. Sager said a new pipe was ordered today and he expects to have it replaced in a week or two.
As for Maverick, his veterinarian said he's expected to make a full recovery.