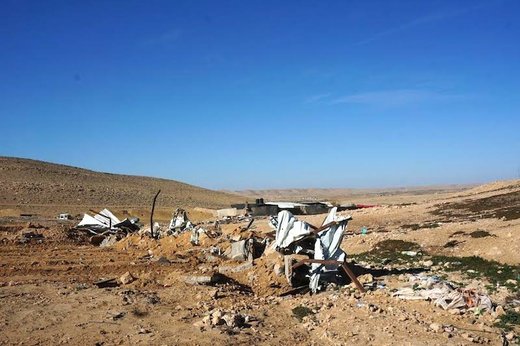 Israeli forces have destroyed a mosque in a Palestinian village in the Negev Desert for a second time this month.
Accompanied by bulldozers, they demolished the mosque in the village of Rakhama on Thursday. Israeli forces had destroyed the mosque earlier this month, but
local residents had rebuilt it.
"It is infuriating to see a mosque destroyed.
Those who destroy a mosque won't have a problem destroying my children's home,"
said a Palestinian resident of the village.
Villagers in Rakhama, branded by Israel as "unrecognized" near the developed town of Yeruham, have no access to educational or health facilities. Palestinian lawmaker Abu Arar criticized Israel for
not providing "any services to Palestinians in unrecognized villages." The regime classifies almost 40 villages in the Negev Desert as "unrecognized."
Last week, Israeli forces razed the Bedouin village of al-Araqib in the region.
They had razed it over 90 times since July 2010
, according to local sources, but Palestinians had rebuilt it. Israel has also delivered demolition orders to the Palestinians living in the Ein al-Rashash area near Duma Village in the occupied West Bank town of Nablus. The Palestinians have been told to evacuate their homes by Monday.
Israel authorities said the demolition orders were given "against 12 illegal buildings."
Ghassan Daghlas, who monitors Israel's settlement activities in the northern West Bank, said, "The Israeli authorities are committing a humanitarian massacre against Palestinians in the area, especially as they have been in the area for dozens of years."
Israel uses the land seized from the Palestinians to build new settlements which the UN regards as illegal. More than half a million Israelis live in
over 230 illegal settlements
built since Israel occupied the Palestinian territories of the West Bank and East al-Quds in a war in 1967. The settlement expansion is viewed as the key obstacle to peace efforts in the Middle East. Palestinians, meanwhile, want the land expropriated by Israel for their future state with East al-Quds (Jerusalem) as its capital.