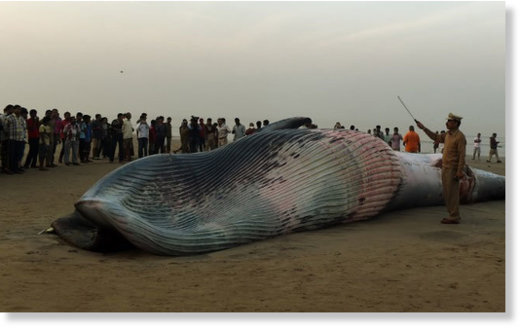 A nearly 40-foot whale drew large crowds on Mumbai's popular Juhu beach on Friday until it was removed with the help of a crane. The whale, weighing around 20 tonnes, had washed up on Thursday night.
It was noticed by lifeguards and joggers who called the police.
A forest official assessed that the "Bryde's Whale" had been dead for two or three days.
"There are no wounds. A postmortem will be done and we will try to preserve its skeleton," said Makarand B Ghodke, conservator in the Mumbai Forest Department.
A crane was called in to remove the massive whale from the beach, which rests against the Arabian Sea.
This is the second biggest whale to have beached along the Maharashtra coast. Last year, a blue whale washed up at Alibaugh and died after a 10-hour struggle to push her back into the sea.
Experts have listed several possible causes of death.
"There could be many reasons - sound pollution under water, pollution from industries, plastic consumption, or even disease, since the animal has no external injuries," said Animesh Limaye, an expert from Reefwatch India.
Beaches line Mumbai's coast and they are often home to piles of rubbish, particularly during the monsoon months when high tides leave tonnes of waste.
Earlier this month, 45 dead short-finned whales washed up at a beach in Tamil Nadu's Tuticorin district.
Around 40 more that were also stranded on the beach were saved. Officials suggested that the whales ended up in Tuticorin after travelling thousands of kilometres from the Pacific.