Fire authorities have warned significant rainfall is needed to extinguish dozens of blazes burning out of control in remote areas of Tasmania's west and north.
Some of the biggest fires are burning in the Tasmanian Wilderness World Heritage Area (TWWHA), where rare ecosystems are at risk from bushfires.
A total fire ban is still being enforced and recent rainfalls were enough to prevent flare ups but they were not heavy enough to stop the threat.
Tasmania Fire Service (TFS) chief officer Gavin Freeman said a Lauderdale man had been charged after allegedly lighting a campfire in the state's north-west then leaving the area.
"It's the first time we've had a total fire ban for four days in a row," he said.
"It's been a long weekend for a lot of people.
"But it is frustrating, we've been very clear about the implications of not abiding by the total fire ban.
"We've tried to ease the restrictions as much as we can."
TFS northern regional chief Ian Bounds said crews could not become complacent, despite cooler conditions this week.
"Whilst it's cooler, a number of these fires are of such size, that they've still got momentum and will continue to burn and the fresh winds will make it quite challenging on the fire ground," he said.
"For a lot of these fires, because of their remoteness, we really are waiting for that large downpour, to actually extinguish these fires.
"Just because of the nature of these fires and the condition of our vegetation being so dry at the moment."
However, no significant rain is forecast until Autumn at the earliest.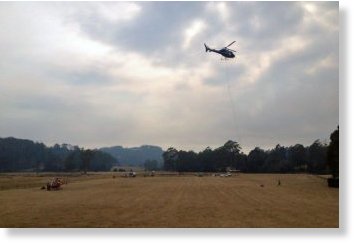 World Heritage Area suffers 'catastrophic damage'
Tasmanian Greens leader Cassy O'Connor said the massive fire front was threatening "environmental jewels" which were unlikely to recover if burned.
She was critical of the State Government for not requesting interstate assistance earlier.
"We need not only extra firefighters in the TWWHA but we desperately need aerial firefighting capacity from interstate," she said.
"We have a chance this week to save some of the most extraordinary landscapes on the planet, places that are of enormous ecological, social and economic value to Tasmania.

"If these treasures are lost, they are unlikely to ever recover."
Mr Bounds said firefighters were aware of what was at stake in the TWWHA
"All the crews are aware of the importance of the pristine wilderness," he said.
"That is one of the reasons we have brought these crews in.
"Putting in hand trails around the fire, putting the fire edge out, so yeah, minimal impact on the actual vegetation."
Specialist crews from interstate have arrived at the fire-ground in remote locations including the Lake Mackenzie area in the north of the TWWHA.
Chief officer Freeman said the full scale of the bushfire situation was slowly becoming apparent.
"68,000 hectares we know has been burnt and around 650 kilometres of fire perimeter," he said.
"That's quite significant but I also need to add we've got a number of fires we still haven't been able to map.
"But my estimate is we have about 1,000 kilometres of fire perimeter."
Two of the largest water-bombing helicopters in Australia are among 11 helicopters and two planes being used to attack the fires.
Ian Bounds from the TFS said crews could not become complacent, despite cooler conditions this week.