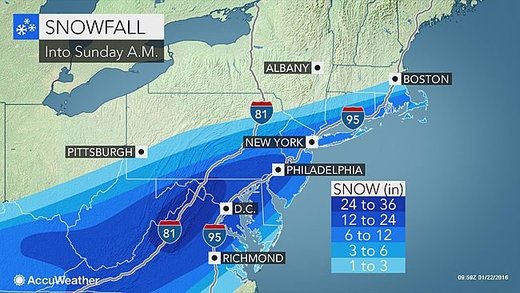 The Blizzard of 2016 will continue to evolve and shut down travel into Saturday from Washington, D.C., to Philadelphia and New York City, with some areas of the mid-Atlantic bracing for 1-3 feet of snow and strong winds.
According to AccuWeather Chief Meteorologist Elliot Abrams, "This will be a
rare event
for the region as there are not many storms that bring a foot or more of snow over such a large area and last more than 24 hours."
Be prepared for lengthy power outages, immobilization
Winds and the rate of snowfall will increase as the storm strengthens. Massive drifts will develop, where sleet and rain do not mix in. Gusts along the mid-Atlantic coast will frequent 40-50 mph.
An all-out blizzard will unfold from northern Virginia to southwestern Connecticut.
Periodic whiteout conditions will occur farther west from south-central Pennsylvania to part of western North Carolina.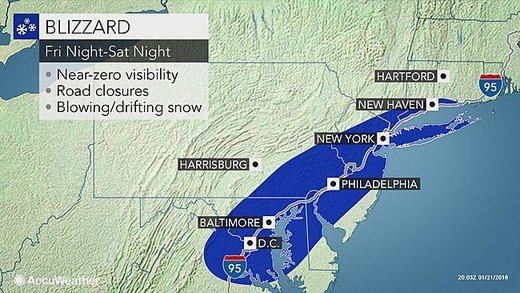 Snowfall rates from New Jersey to Virginia and West Virginia will be 1-3 inches per hour at times and the storm can last for more than 24 hours.
Thunder and lightning could accompany the heavy snow in some locations. In some communities, roads could be blocked and the power could be out for days.
Multiple state officials have
declared a state of emergency and are urging people to stay off the roads
or risk being stranded during the storm.
The storm is likely to shut down major highways from Interstate 81 to I-95 and from I-78 to I-85. Multiple airports may close. Multiple airlines have already cancelled flights and announced travel waivers for flights affected by the storm in the eastern United States. Mass transit in multiple cities will be stopped or severely limited.
Factoring in strong winds and other conditions, AccuWeather RealFeel Temperatures at the height of the storm will be in the single digits in many areas. The conditions will raise the risk of hypothermia for those who are stuck outside and not properly dressed.
In Atlantic shoreline communities, as well as along the back bays and sounds from New York to Virginia, strong onshore winds will cause tides to run 2-4 feet above normal.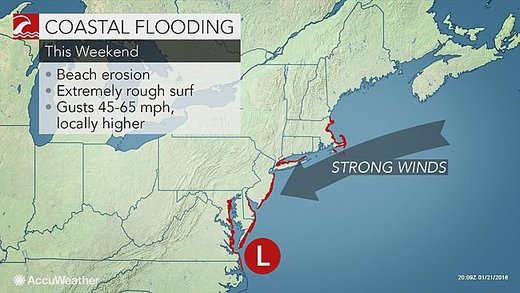 The flooding will be made worse by high astronomical tides related to the full moon. Large waves will pound the beaches. The worst conditions will be from New Jersey to eastern Maryland.
Snow to bury metro areas from DC to Philadelphia, NYC
Areas from
Baltimore and Washington, D.C.,
to near Philadelphia can expect an all-out blizzard with snowfall averaging 12-24 inches. From northern Virginia to eastern West Virginia and northern Maryland, a general 2-3 feet of snow will fall
. A distance of less than 50 miles could bring snowfall ranging from an inch or less to more than a foot.
The New York City metro area will receive up to a foot of snow with blizzard conditions at times. Heavy snow is still likely right along the southern coast of New England with enough snow to shovel and plow from Hartford, Connecticut, to Plymouth, Massachusetts. Up to a few inches of snow may fall in the Boston area.
Travel impact to extend beyond the heart of the storm
Ripple effects from the storm will reach airports across the nation as flights and crews are displaced in the East.
Along with the northern edge of the heavy snow, winds will be significantly less well north and west of the storm center.
Travel may be slippery from Cincinnati to Pittsburgh and Scranton, Pennsylvania, to Portsmouth, New Hampshire, but the impacts will pale in comparison to areas farther south and east.