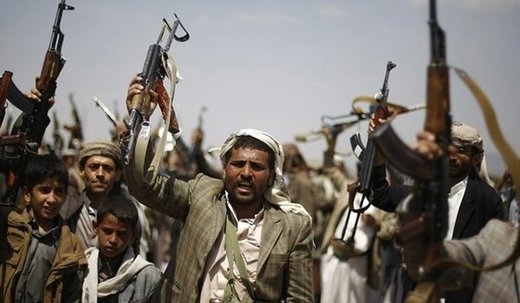 "A British officer of Blackwater security firm was killed in al-Wazaya region in Taiz province,"
a Yemeni army source said on Tuesday.
The source declined to reveal any further details.
Elsewhere in Yemen, over 120 mercenaries, including the Saudi, UAE and US officers, were killed in the Yemeni troops' missile attack on the command center of the Saudi-led coalition in Ma'rib.
"The Yemeni army missile unit fired a Tochka missile at the operations room of the Saudi-led forces in Ma'rib (on Sunday) and killed over 120 mercenaries with different nationalities," Ali al-Houthi, an Ansarullah Movement Leader, told FNA on Tuesday.
"46 Saudi mercenaries, 11 UAE and 9 Saudi officers and 11 foreign commanders of the US Blackwater company were among those killed in the attack," he added.
Houthi said that 6 Apache and 4 Black Hawk helicopters and 4 drones armed with missiles were also destroyed in the attack.
The command room of communications with the spying satellites and airplanes was also destroyed completely.
Also earlier this month, the Yemeni army and popular forces killed several other Saudi-hired Blackwater militias in an attack on a military base in the province of Taiz.
A number of Blackwater mercenaries, including an American officer and a French officer, were killed in an attack on their military base in Zobab region in Taiz province.
The town of Zobab is located 40 kilometers to the North of Bab al-Mandeb and is of strategic importance.
Many more Blackwater mercenaries have been killed in the Yemeni attacks in recent weeks.
On December 23, 4 Blackwater mercenaries, including two British, an American and a South African paramilitary troops, were killed in an attack on their military base in Zobab region.
On December 9, 14 Blackwater mercenaries, including a British, a French, an Australian and six Colombians were killed in an attack on Al-Amri military base in Taiz province near the Bab al-Mandeb Strait.
After pulling out its troops from Yemen, the UAE recruited and sent Colombian forces to Yemen to replace its regular troops.
Yemeni Army Spokesman Sharaf Luqman has said that the Blackwater forces dispatched to Yemen comprise Al-Nusra, the ISIL and Al-Qaeda terrorists.
The UAE had previously sent mercenaries from Latin America, specially Colombia, to Yemen without prior coordination with Saudi Arabia.
The United Arab Emirates has quietly built an army of Latin American mercenaries to fight for Yemen's deposed government in a proxy war.
In a program launched by Blackwater founder Erik Prince and now run by the Emirati military, the force of 450 Latin American troops - mostly made up of Colombian fighters, but also including Chileans, Panamanians and Salvadorans - adds a new and surprising element to the already chaotic mix of forces from foreign governments, armed tribes, terrorist networks and Yemeni militias that are currently embroiled in the Middle Eastern nation, Fox News reported.
It seems there are also going to be hundreds of other foreign mercenaries — Sudanese and Eritrean soldiers — brought into Yemen.