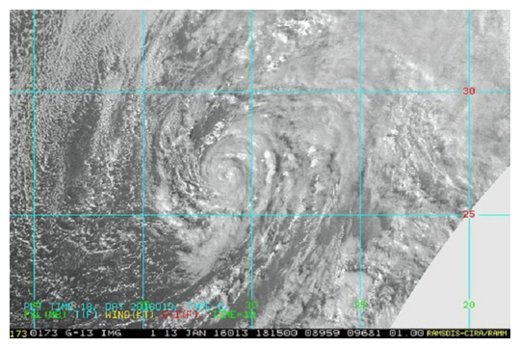 January was already shaping up to be a weird month, what with a
hurricane out in the Pacific
, but it just got weirder:
Say hello to Hurricane Alex, a rare
January storm
in the Atlantic and the first storm of the 2016 Atlantic hurricane season.
A season that doesn't officially begin until June 1.
Alex is the first such storm to form in January since 1978 and only the fourth January storm formation on record going back to 1851. The climatological average first date for the first named storm in a season is July 9.
While it's decidedly not
hurricane season
, the official June 1-Nov. 30 dates of that season are artificial ones, chosen because they encompass the bulk of tropical cyclone activity. But when conditions are right, storms can, and do, form outside of those bounds.
Alex formed from a system that first developed in the warm waters off the east coast of Florida last week and has tracked eastward across the ocean, gradually becoming stronger and more organized.
On Wednesday, it was finally pulled-together enough that the U.S.
National Hurricane Center
(NHC) in Miami officially designated it a
subtropical storm
. This is a hybrid type of storm that has some of the attributes of a tropical cyclone, which have a warm core and derive their energy from convective clouds, and the type of frontal system, or extratropical cyclone, we typically see sweep across the country.
Alex was likely able to form because the prevailing winds in the area were fairly favorable, said hurricane expert Philip Klotzbach of Colorado State University.
Forecasters don't expect Alex to strengthen over the coming days as it moves northward over increasingly colder waters. It is expected to be fully extratropical by the time it reaches the Azores, though its winds will still pack a punch and it could drop heavy rains that could lead to flooding.
Such an early storm doesn't tell forecasters anything about any further pre-season storm activity or how the season itself may turn out.
"These types of oddball systems happen from time to time," Klotzbach said in an email, adding that there were likely January storms that were missed prior to the satellite era, and possible even since their advent.
Meanwhile, over in the Pacific, Pali is still a hurricane and has come within just a few degrees of the equator, an exceedingly rare feat for a tropical cyclone. Only two other storms have been stronger closer to the equator, according to Klotzbach.
Pali is expected to weaken back to a tropical storm over the next few days and doesn't pose any threats to land.
But while both storms are still going, the NHC and the Central Pacific Hurricane Center in Hawaii are both issuing advisories on storms in January for the first time in their history. Like we said, a weird month.