This is the amazing moment a couple appear to kiss on a Sydney beach, just moments before the entire beach is overwhelmed by a huge wave.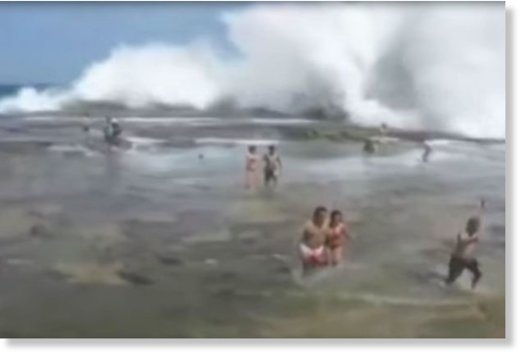 The rogue wave hit the beach at Sydney's Royal National Park, leaving some people with serious injuries.
As other beach-goers and swimmers are running away from the water and to safety, the couple apparently pause to kiss before being pushed apart by the crashing water.
The man filming the scenario can be heard screaming: "Get out!"
Another man is heard yelling "Oh f***, brace yourselves!"
Emergency services were called to the park's figure eight rock pools, and two rescue helicopters were deployed to the scene, airlifting three women to hospital.
A 22-year-old woman is reported to have suffered from severe head injuries and a 53-year-old woman with a suspected broken ankle were among the worst injuries.
A 20-year-old woman was also airlifted after being bowled over by the freak wall of water and hitting her head.
All three have now been discharged from hospital, according to the MailOnline.
National park rangers are now warning visitors to exercise care when walking along the rocky coast.