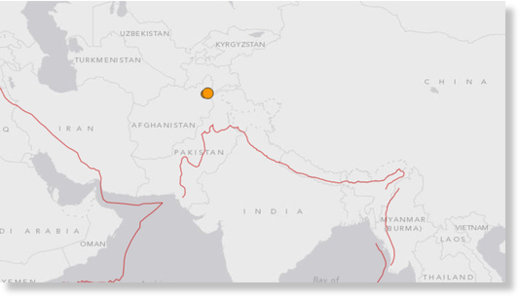 A medium intensity earthquake on Saturday hit Hindu Kush region in Afghanistan, ripples of which were felt across North India, including in Jammu & Kashmir and the national capital.
The earthquake, measuring 5.8 on the Richter scale, was 170 km deep, according to the National Seismology division of Ministry of Earth Sciences.
There was no report of any loss of life or damage to property till the last reports came in.
The tremor occurred at 2:07 PM and people in the national capital region rushed out of their homes.
People in Kashmir also felt the tremor.
The 5.8 magnitude tremor was experienced at around 2.15 pm in the Valley, an official of the MeT department said.
He said the epicentre of the tremor was the HinduKush mountain range in Afghanistan at a depth of around 170 kilometres from the surface of the earth.
The tremor, which lasted just few seconds, caused panic among the residents who rushed out of the buildings for safety.
A police official said there were no reports of any damage due to the tremor, which was the first of the new year in the Valley.
Source: Press Trust of India