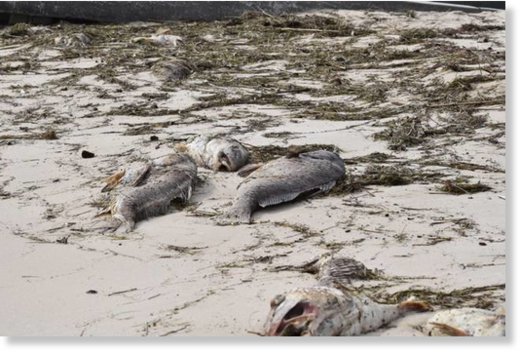 Thousands of dead fish were picked up by land servicing crews in Hancock County on Sunday, and officials say it may be associated with the red tide algae that spread through South Mississippi waters earlier this month.
A dump truck driver told the
Sun Herald
that he began loading dead fish on the beach near Washington Street early Sunday morning. By 1 p.m., he had made his way to the shoreline in Waveland near Buccaneer State park. He said crews picked up about 15,000 fish.
Hancock County Chief Deputy Don Bass said most of the fish washing ashore have been black drum. Bass said Hancock County Emergency Management received calls about the fish early on Sunday, and the agency has been working with the Mississippi Department of Environmental Quality to remove the fish.
Bass said the county has received some phone calls over the past two weeks about dead fish washing ashore, and those instances were associated with the red tide algae blooms as it moved westward into Louisiana.
The red tide algae that swept through South Mississippi waters earlier this month was responsible for the deaths of thousands of fish that washed ashore in Harrison and Hancock counties. On Dec. 11, the algae blooms shut down oyster reefs across the Coast, and they may remain closed until March.
Melissa Scallan, spokeswoman for the Mississippi Department of Marine Resources, said the agency believes the red tide is responsible for the fish deaths in Hancock County. She said dead crabs may have washed ashore as well. DMR will sample the water Monday to be certain.
Scallan said the red tide algae has been moving west and should be in Texas waters, but the effects can still be lingering in South Mississippi.
Officials told the
Sun Herald
this string of algae blooms is one of the worst in South Mississippi history.
Algal concentrations, measured in cells per liter of water, must reach 5,000 cells per liter to cause oyster reef closures. Water samples taken Dec. 12 in some areas in Mississippi held concentrations of more than 1 million cells per liter, DMR Chief Scientific Officer Kelly Lucas said.
"This is very uncommon," she said. "We have had a bloom before, in the 1990s, but I don't think we've ever had cell counts that high."