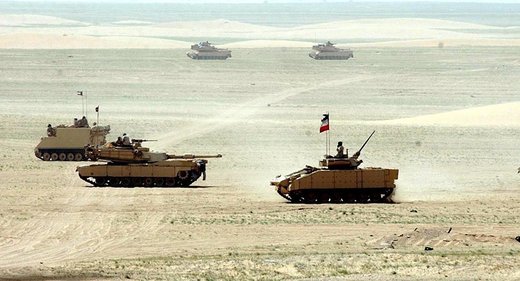 Kuwait is ready to send an artillery battalion to protect Saudi Arabia against cross-border incursions by Houthi rebels in Yemen, the Kuwaiti daily newspaper Al-Qabas reported.
Kuwait is part of the anti-Houthi coalition in Yemen, led by Saudi Arabia, which wants to bring back to power ousted President Abd Rabbuh Mansur Hadi, who fled from the Shiite insurgents in January.
"Kuwait decided on the participation of its ground forces, represented by an artillery battalion, in operations to strike at positions of Houthi aggression against the Kingdom of Saudi Arabia,
" the newspaper wrote on Tuesday, citing an informed source.
The Houthis have staged several attacks on Saudi Arabia's southern regions of Najran and Jazan with a number of ground incursions and missile attacks.
The Houthis, a Zaidi Shia insurgent group, control vast areas in Yemen. They forced Yemen's government to resign in January and currently control the capital Sanaa.
The ongoing Saudi Arabia-led coalition's military operation aims to defeat the Houthis, who are supporters of ex-Yemeni president Ali Abdullah Saleh, and to restore ousted President Abd Rabbuh Mansur Hadi to power.
According to the United Nations, almost 6,000 people have died since the conflict flared up in March.