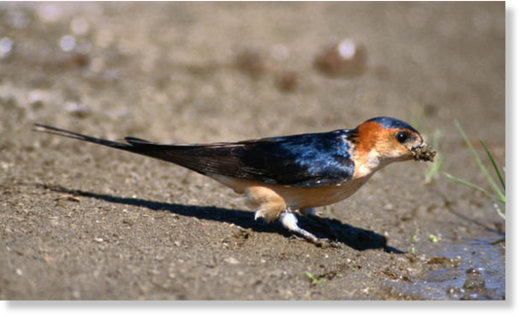 The balmy winter weather with its bees, butterflies and flowering bulbs has produced another phenomenal sighting of a swallow on the wing. And not just any swallow.
A rare red-rumped swallow from the Mediterranean is spending its Christmas on the North Norfolk coast - further evidence that December 2015 is likely to go down on record as the warmest since records began.
The red-rumped swallow that has brought a dash of seasonal, russet colour to our shores is finding enough small insects to maintain its energy levels as it patrols the skies over Norfolk's network of famous nature reserves.
By rights, the red-rumped swallow should be enjoying sunshine south of the Sahara or even as far away as India rather than the skies over Wells-next-the-Sea.
Temperatures as high as 16 degrees in recent days are also helping other fair weather species to survive. A hoopoe has been showing off its powder pink plumage at Hinksford in Staffordshire.
These dazzling birds occasionally turn up Britain during spring when they overshoot their breeding grounds around the Mediterranean.
Warm weather with its glut of small insects is also helping several tiny warblers to stay alive.
Dusky, yellow-browed and Pallas's warblers have all been seen in different parts of the UK in recent days when, by rights, they were meant to have migrated from their Siberian nesting areas to tropical South East Asia.
Grahame Madge, a wildlife enthusiast and spokesman for the Met Office, explained why nature lovers have been enjoying an unusual Christmas bonanza.
"If conditions remain as mild as they have been for the rest of the month we are on track for the warmest UK December since records began in 1910," he said.
"The mild temperatures have been due to warm air being pushed up from the subtropics around the Azores.
"Given the origin of our mild weather, it's perhaps not unsurprising that birds more normally seen around the Mediterranean are here in December.
"For some of these birds, the mild conditions have thrown them a lifeline as flying insects and other invertebrates have been in plentiful supply.