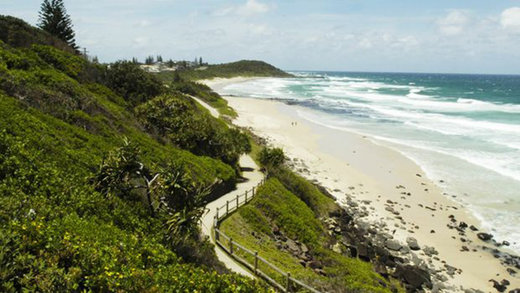 A sinkhole of varying depth and up to three metres across reopened at the south end of Shelly Beach in Ballina over the weekend.
On Sunday surf lifesaving guards put up boundary tape around the sinkhole to warning beach goers.
The sinkhole, believed to be between one and three metres deep, first opened up several weeks ago, Far North Coast Surf Lifesaving duty officer Garry Meredith said.
The council used earth moving equipment to fill in the hole, but it re-opened over the weekend.
The heavy seas over the last few days pushed around a lot of sand, Mr Meredith said.
By Monday the depth of the hole had reduced to less than a metre deep, but Ballina Shire Council was considering taking steps to again use equipment to fill the hole in, group manager of civil services John Truman said.
The sinkhole is close to a storm water pipe and its arrival could be related to that, Mr Truman said.
At other times the water in the sinkhole has had to be filled in with tea-tree stained water so it was hard to gauge its depth, Mr Meredith said.