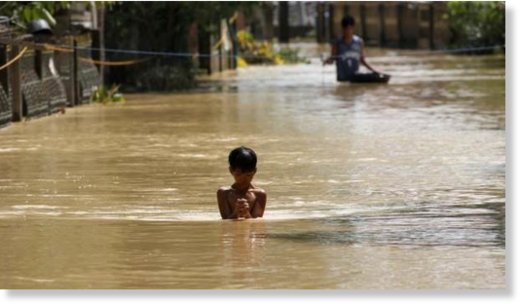 Successive storms across the Philippines, including Typhoon Melor, have temporarily uprooted 1.7 million, aid workers said, as President Benigno Aquino distributed food on Wednesday in areas hardest hit by the disaster.
At least 41 people were killed when Typhoon Melor struck central Philippines on Dec. 15, inundating villages, damaging crops and disrupting power supplies to six provinces.
Known locally as Nona, Melor damaged or destroyed about 200,000 homes mostly in the provinces of Oriental Mindoro, Northern Samar and Sorsogon, the International Federation of Red Cross and Red Crescent Societies (IFRC) said.
Damage to agriculture and infrastructure is estimated at $99 million, according to the IFRC, which has appealed for $3.8 million to deliver emergency assistance to survivors.
"These multiple disaster events have made life extremely difficult for communities, some of whom have been hit by repeated waves of flooding," Kari Isomaa, head of IFRC in the Philippines, said in a
statement.
As rains continued across much of the Philippines, with flooding and landslides in some provinces, President Aquino met displaced families in Northern Samar and Oriental Mindoro.
His visit came a day after Maoist rebels attacked an army truck, that was delivering equipment to help clear up the destruction caused by the typhoon.
Military spokesman Colonel Restituto Padilla said one soldier was killed in the attack on Tuesday morning, which could hamper relief work in typhoon-hit areas.
"It divides our focus on the primary mission at hand and takes away much needed helping hands from the main effort of saving lives," Padilla said.
The Philippines is one of the countries hardest hit by natural disasters, with an average of 20 typhoons per year.
BETTER PREPAREDNESS
IFRC said many families were still struggling to recover from the devastation wrought by Typhoon Koppu last October. Koppu, a category 4 storm, unleashed 4-metre storm surges, floods and landslides, killing 58 people and displacing more than 100,000.
Reports from aid workers on the ground suggest residents were better prepared for Typhoon Melor.
"Prior to landfall of the typhoon, community volunteers worked with the local government to disseminate information house to house," said Lolita Arellano, Plan International programme manager in Eastern Samar province.
"People are very aware. Each time there is typhoon, they are ready. They have stocks of food, stocks of water and relief items on the roof and ceiling."
The IFRC appeal will help the Philippines Red Cross provide aid - including emergency shelters and cash grants - to 45,000 people hit by storms and floods across the islands of Luzon, Visayas and Mindanao.
Funds from the appeal will also be used for home repairs, awareness raising campaigns on the prevention of waterborne diseases and repairs to water and sanitation facilities at schools, IFRC said.
Separately, the World Bank on Tuesday announced a $500 million credit line to support the Philippines to reduce disaster risks and help manage the financial impacts when disasters strike.