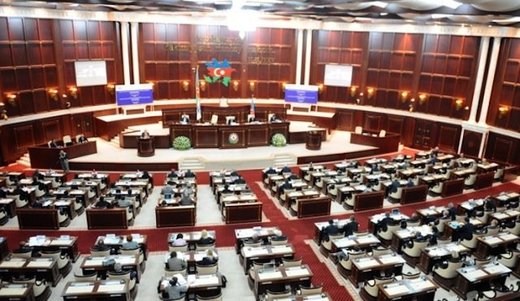 The document is a self-styled response to the so-called Azerbaijan Democracy Act, the initiator of the legislative motion said
A bill on severing ties with the U.S. in a number of spheres has been submitted to the Azerbaijani parliament. It proposes, among other things, to suspend participation in the operations in Afghanistan in the format of ISAF contingents and to ban the transits of U.S. defence cargoes via Azerbaijani territory.
The text of the draft law 'On the Situation with Human Rights in the U.S.' was published by Azerbaijani media on Wednesday.
The initiator of the legislative motion, the deputy chairman of the parliamentary committee for legislative policies and state construction, Rowsan Rzaev, said the document is a self-styled response to the so-called Azerbaijan Democracy Act submitted to the U.S. Congress on December 16 by the Chair of the Helsinki Commission, Chris Smith.
Rzaev's bill says various organizations and agencies in the U.S. are making attempts to keep Azerbaijan within their realm of influence, meddling with its domestic and foreign policies, putting permanent pressure on the country, and occupying a biased and one-sided stance on the issues like human rights and democracy.
The discouraging processes unfolding inside the U.S. and its claims to global hegemony compel Azerbaijan to revise cooperation and the bilateral ties that formed over many years.The bill recommends the government to consider
a possible severing of all ties between Azerbaijani state agencies and U.S. companies, to draft proposals on breaking off the contacts in trade, energy sector, defense, and security, and to launch procedures conducive to the revocation of U.S. co-chairmanship in the Minsk Group of the OSCE for settling the conflict in Nagorno-Karabakh.
The bill also suggests that the Foreign Ministry should deny entry visas to some categories of U.S. citizens, including Administration officials, congressmen and senators who seek to discredit this country. The text says, however, the aforementioned sanctions can be repealed
if the U.S. stops crude interference in the affairs of other countries, renounces the campaign to smear Azerbaijan, and assumes a position on the conflict in Nagorno-Karabakh that would be consonant with international law.
At the time of reporting it was not known yet when the Millis Majlis, the national parliament, might examine the bill and whether it would be examined at all.