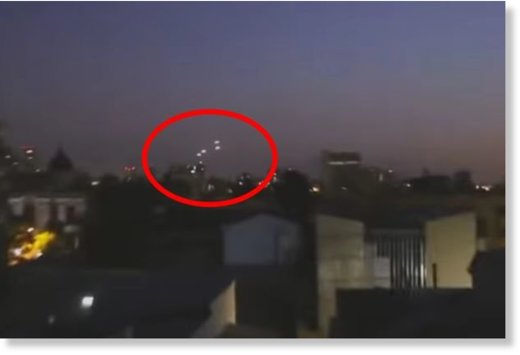 A video has sparked intrigue after it appeared to show a fleet of UFOs hovering and moving in formation.
The five-minute clip was posted to YouTube and appears to show a number of bright lights flying in the night sky above Santiago, Chile,.
At first the lights seem distant and the objects appear to be flying together.
But then they begin to disseminate - similar to planes coming in to land in a holding pattern over an airport - before disappearing completely.
The footage is titled "Fantastic UFO sighting in Santiago" and was posted online yesterday.
And many people seem to be convinced by its extra-terrestrial credentials.
One viewer wrote: "At first I thought it was just Chinese lanterns tied together but those things are moving fast."
"This seems to be very real", added another on Facebook.
However, others aren't so sure, suggesting it may show drones.
It is not the first time unusual flying objects have been spotted in Chile, which is something of a UFO hotspot.
The Andean town of San Clemente, 170 miles south of Santiago has been a hub of UFO sightings for 20 years.
Hundreds of reports of mysterious shining objects and flying machines have been spotted drifting and disappearing.
Indeed the town is the nation's UFO capital and one of world's better known places to spot curious objects.
The 19-mile San Clemente trail passes through the Andes and takes visitors to the El Enladrillado, an elevated site at 2,200 meters where flying saucers are said to land for very close encounters with Earth.