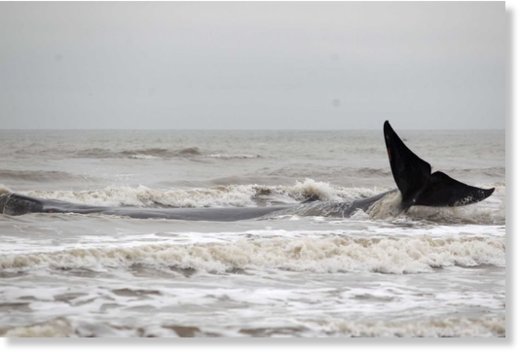 A whale died early Tuesday afternoon after drifting in and floundering helplessly in the surf on West Galveston Island as dozens of onlookers watched.
The whale died at about 12:30 p.m., according to a spokeswoman for the National Oceanic and Atmospheric Administration, about five hours after it was spotted. Volunteers had been planning to euthanize the ailing marine mammal once the tide moved it closer to shore.
Officials plan to observe the whale overnight before performing a necropsy on Wednesday.
The whale likely drifted onto the beach in front of the Terramar Beach subdivision because it was ill, said Heidi Whitehead, operations coordinator for the nonprofit Texas Marine Mammal Stranding Network.
"At this point, it's a matter of watching for the whale to come ashore," she said before the whale died.
She had said it was too dangerous to approach the whale - estimated to be 30 to 40 feet long -- until that time.
"Just the sheer size of an animal like this makes it dangerous," she said. "It can be dangerous for someone to approach and it rolls on top of them."
Mike Romeyn, 45, who lives in the Terramar subdivision, said a neighbor notified him that a whale was on the beach and he called the network at 7:23 am.
The network's Mel Thompson confirmed that a passerby walking on the beach spotted the whale at about that time. Late Tuesday morning, the whale was barely visibly in the surf on an overcast day.
It is unknown how long the whale may been caught in the shallows.
Thompson said it's unusual to have such a large whale so close to shore. The group regularly helps dolphins stranded on beaches or in shallow water, but rarely have whales been seen in such dire conditions in the area.
Often, unhealthy whales can get confused or have little control to swim in heavy currents and end up close to shore, said Dr. Chris Marshall, an assistant professor in the marine biology department at Texas A & M University in Galveston. Also, whales in distress may seek calmer waters in shallows.
"If they are sick or something is why they come up in shallow waters," Marshall said.
In February 2011, a pygmy sperm whale found stranded in shallow surf along Galveston's West End was euthanized as a way to end its suffering. A veterinarian who examined the whale determined that the animal couldn't live in captivity and was in no condition to be released.