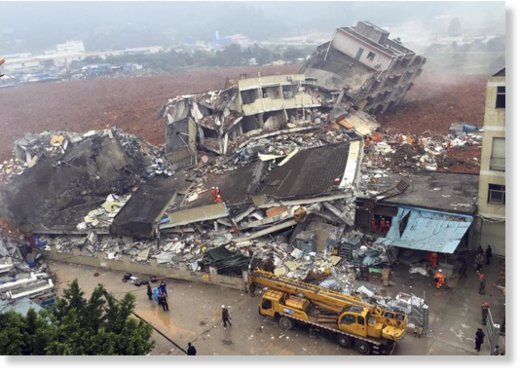 At least 22 people went missing after a landslide hit an industrial park collapsing nearly 20 buildings, including two dormitories, on Sunday in Shenzhen city of south China's Guangdong Province, rescuers said.
Police received the report of the landslide at 11:40am, which took place in the Liuxi Industrial Park in Guangming New District in northwest part of the city.
An area of 20,000 square meters (24,000 square yards) was covered under soil, the Ministry of Public Security's fire-fighting bureau said in an online statement.
More than 700 people are searching in debris for life. Rescuers have brought four people to safety, three of them suffering minor injuries.
A total of 185 firefighters, 37 fire trucks and rescue dogs have been rushed to the scene, according to the Weibo account of
People's Daily.
Li Yikang, the deputy secretary general of the Shenzhen city government, said at a televised news conference that 17 men and five women were missing. He said more than 900 people had been evacuated.
Giving different figures than the fire authorities, Li said that four people had been rescued and 22 factory buildings buried, involving 15 companies. The reason for the discrepancies was not immediately clear.
Ren Jiguang, the deputy chief of Shenzhen's public security bureau, told CCTV that most people had been moved to safety before the landslide hit.
The landslide happened near a gas station, which shut off its pipelines soon after the accident. No gas leak was found.
Most of the buildings are buried, and with rain getting heavier, rescue operations are becoming increasingly difficult.