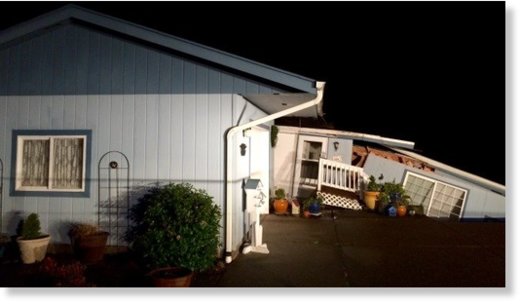 Emergency administrators in Lincoln County said Friday that an overnight landslide caused "catastrophic damages" to homes in Newport.
Four homes sustained damage when a 40-foot stretch of hillside gave way in the 300 block of Northeast 70th Drive in Newport.
Firefighters said the first 911 call was made around 6:30 p.m. from a woman who reported a sinkhole had opened up in her mother's garage and that her vehicle had fallen through the sinkhole.
Tami Johnson said she was at her mother's home giving a high school student a piano lesson when they noticed the winds picking up. She told KOIN 6 News they heard what sounded like "a tree crashing on the roof." Moments later, Johnson described feeling the ground shaking and hearing the sound of metal ripping apart.
"I decided to check the garage and lo and behold, half of the garage was gone," Johnson said.
The car had fallen down the steep embankment and into a mud-filled stream.
The backside of the garage door was torn off, leaving the garage fully exposed.
Johnson, her mother, the piano student and her mother all raced from the home.
Newport Fire Chief Robert Murphy said when crews arrived they noticed that part of the hillside was giving away. The firefighters went door-to-door evacuating residents.
"This is one of the more significant (landslides) that we've had in Newport that I can remember," Murphy said.

He estimated the hillside stretches 300 to 400 feet and that a 40-foot section ripped apart.
"Those homes were built on fill," Murphy said. "They had taken part of a hill top off and leveled it out so they could build a subdivision."
Murphy added because of the sustained and heavy rains, the hillside likely couldn't support itself anymore. Survey crews remain on scene Friday morning assessing the damage.
Jenny DeMaris, a spokesperson for the Lincoln County Sheriff's Office, said the state's Office of Emergency Management had been told about the damages. It remains unknown if any state assistance will be provided.
Meanwhile, storm damage has been reported in Seal Rock, Waldport and Yachats. Along Yachats River Road, a creek re-routed itself, according to DeMaris, and pushed a house off of its foundation.