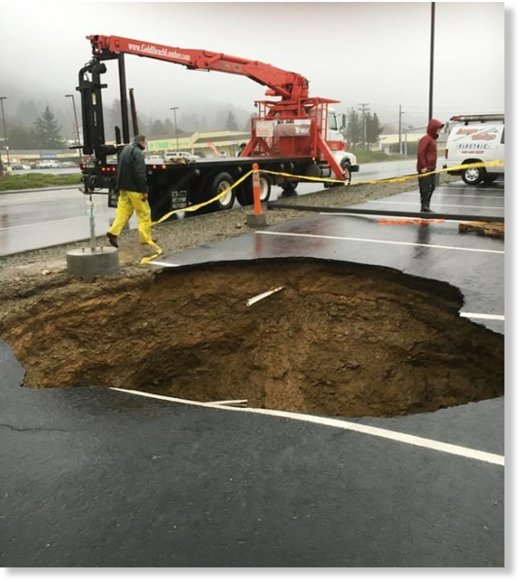 A 30-foot wide, 25-foot deep sinkhole
appeared today in the parking lot of the Fireside Grill adjacent to Highway 101 in Harbor.
No people were injured nor vehicles damaged when the hole opened up this morning, according to property owner David Allen. The hole doesn't pose a threat to any lanes on the highway, yet.
"At first it just looked like a deep puddle of water and then it collapsed," Allen said. "I'm glad nobody was parked there."
The Oregon Department of Transportation sent a crew to inspect the hole, and they determined it was caused by a failing culvert buried 30 feet below the surface. The 48-inches wide pipe runs east to west under Highway 101, starting in the shopping center on the east side of the highway.
"The pipe was built sometime in the 1970s," said ODOT spokesman Jared Castle. "We know it's going to get larger, but there's nothing we can do until it stops raining."
He added, "We're going through the old records to learn more about the pipe and how best to deal with it."
Meanwhile, ODOT officials are monitoring the situation hourly and will take action to protect the public if the sinkhole spreads into the highway lanes, he said.
Caution cones have been placed around the hole, which destroyed about two parking spaces at the far end of the parking lot. The Fireside Grill is not threatened by the sinkhole and is still open for business, Allen said.