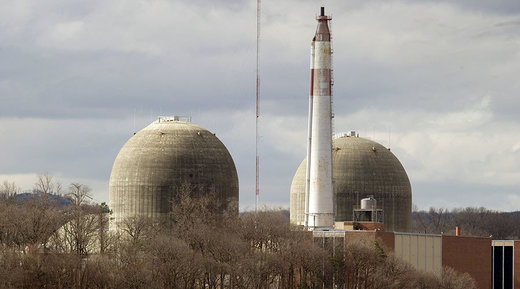 One of the reactors at the Indian Point nuclear power plant, 25 miles north of New York City, was shut down after transmission line trouble. It was the second shutdown at the complex this month, and the
fifth incident this year
.
The Unit 3 reactor was taken offline Monday evening, after an "an electrical disturbance on the non-nuclear side of the plant," said a
statement
from Indian Point's operator, Entergy Corporation. The company blamed a problem with the high voltage transmission line leading from the plant to an electrical switching station outside.
"There was no release of radioactivity and no threat to the safety of workers or the public," Entergy said.



It was the fourth shutdown this year for the Unit 3 reactor, and the fifth this year at the facility. Last week, operators performed an emergency shutdown on the Unit 2 reactor, after several control rods inexplicably lost power.
Located in Buchanan, New York, just 25 miles up the Hudson River from New York City, the first reactor at Indian Point came online in 1962, and used thorium fuel at first. After switching to uranium dioxide, Unit 1 was shut down in 1974, because
the core cooling system no longer met regulatory requirements.
Unit 2 was brought online the same year, and Unit 3 followed two years later. Both operate uranium dioxide reactors, generating around 2,000 megawatts of power for New York City and Westchester County customers.