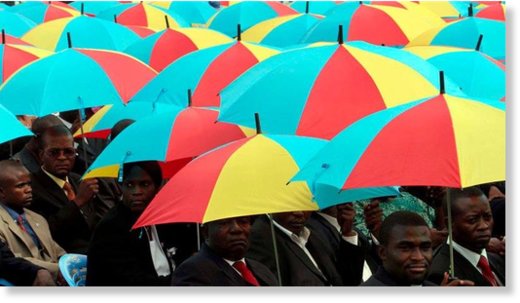 Torrential rain between 11 and 12 December 2015 has caused deadly floods and landslides in eastern and western parts of Democratic Republic of Congo (DRC). Local news reports claim that 18 people have died in eastern South Kivu and 9 in western Bas Congo provinces.
Floods have already resulted in over 30 deaths in Kinshasa and other areas of the country since late November.
South Kivu Province
On 12 December 2015, AFP reported that at least 18 people during torrential rains and floods on Friday 11 December to Saturday 12 December 2015 in Bukavu in South Kivu province in the east of the country.
WMO reported that, during a 24 hour period between 06 and 07 December 2015,
136.9 mm of rain fell in Bukavu.
No records are available for more recent rainfall in the country.
At least 6 houses collapsed after torrential rain triggered floods and landslides. There are fears that some are still trapped under the rubble and that the death toll could rise further. One death has been reported as a result of electrocution. Radio Okapi, the UN backed news outlet in DRC say that around 50 houses have been damaged which could leave hundreds homeless. Ibanda and Panzi districts in Bukavu are thought to be the worst affected.
Bukavu lies on the south western shores of Lake Kivu, next to the border with Rwanda. The province has seen over 60 people killed in floods since October last year.
At least 30 people died in floods in Kalehe Territory in South Kivu province after 3 days of heavy rain in late October 2014. Around 14 people died in March this year after flooding in Fizi, South Kivu province.
Bas Congo Province
Radio Okapi also report that 9 people were killed in floods on 12 December in Boma (5) and Mbanza-Ngungu (4), both in Bas Congo n province in the west of the country. Radio Okapi say the floods have caused widespread damage, including hundreds of homes and a bridge.