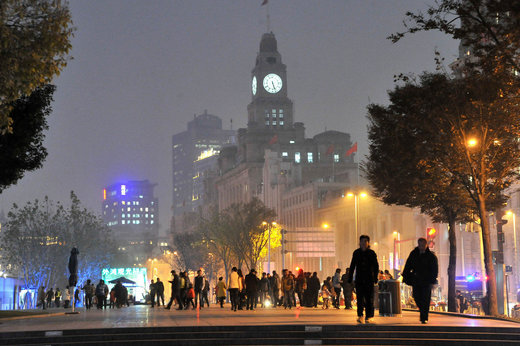 Shanghai ordered schools to keep children indoors and factories to limit production as a hazy smog enveloped the metropolis and the most dangerous air contaminants reached the highest levels in two years.
The city's air quality index hit 217 at 4 p.m., or "heavily polluted," the second
worst
in a 6-grade scale, the Shanghai Environmental Monitoring Center said. It had improved from "severe" earlier, when PM2.5 levels -- particulates considered the must dangerous to health -- rose to as high as 281 micrograms per cubic meter, the most since Dec. 26, 2013, according to U.S. State Department data tracked by Bloomberg. The World Health Organization
recommends
no more than daily average exposures of 25 micrograms.
Shanghai's pollution hasn't been a major concern since 2013, when the city was shrouded in smog for weeks and prompted the American Chamber of Commerce to say it was hurting the city's image as it sought to attract foreign businesses. Tuesday's warning followed a red pollution alert by
Beijing
last week for the first time, that triggered limits on industrial production, bans on outdoor construction and primary school and kindergartens suspensions.
"The heavy pollution Shanghai faces highlights that China still needs to make more investment into environmental protection," Dong Liansai, climate and energy campaigner at Greenpeace East Asia, said by phone. "Measures such as asking factories to reduce production will certainly have some impact on the economy, but it's very worthwhile to protect public health."
The city started a color-coded air pollution system last year that mandated reduction measures depending on the level of smog, with red the most severe, followed by orange, yellow and blue. In 2013, the municipal government released an action plan that aimed to cut PM2.5 levels by 20 percent by 2017 from 2012 levels.
Pollution Persists
Children and elderly should remain indoors, while everyone else should avoid physical activity outdoors, the Shanghai monitoring center said on its website. The city's environmental protection bureau issued in the morning a
yellow
pollution warning, calling on the public to conserve electricity, take buses and avoid driving cars. The alert is signaled if heavy pollution is expected to persist for two days, according to the bureau website.
The Shanghai Municipal Education Commission said on its official weibo that an
order
had been issued to primary schools and kindergartens to keep children indoors. The city government
ordered
industry to limit production to reduce emissions and some construction to halt, according to a separate weibo statement.
A yellow haze alert has also been in effect since Monday evening when pollution levels began to rise, according to a weather information portal run by the Shanghai Meteorological Bureau.