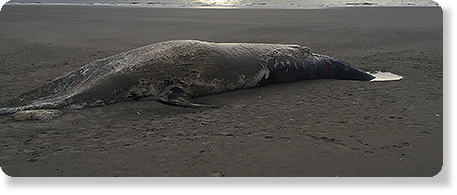 A nine-metre long whale has washed up on a sandbank in the Wadden Sea, close to the holiday island of Texel.
The whale, thought to be a female Minke, has been dead for some time, experts at the Ecomare wildlife centre said. She probably washed up on the sandbank known as the Razende Bol where the water is shallow.
Researchers from Utrecht University will try to establish the cause of death and what the animal had been eating. Minke whales are one of the smallest species of balleen whale and common in the North Sea. They are a primary target for the whaling industry.
In December 2012 a humpback whale died after becoming stranded on the same sandbank.