A potent storm approaching western Alaska this weekend has tied the strongest recorded storm to impact the region.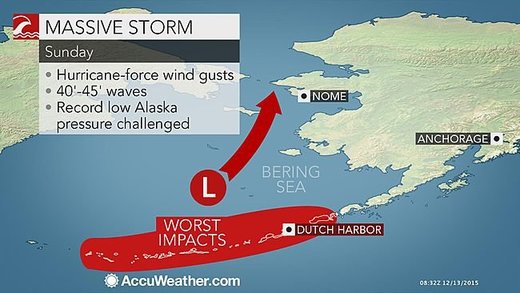 This storm comes a little over a year after ex-Super Typhoon Nuri became
the most powerful system on record
to cross Dutch Harbor, Alaska, which is located in the Aleutian Islands, with a central low pressure of 924 millibars (27.29 inches of Hg).
The intensity of a storm is measured by the central pressure, with lower pressure equating to a stronger system.
Previous to Nuri, the old record stood at 925 millibars (27.32 inches of Hg) at Dutch Harbor, Alaska, from a strong storm that hit on Oct. 25, 1977.
To put this in perspective, Hurricane Katrina made landfall at 920 millibars (27.17 inches of Hg).
This storm raced to the northeast and pounded the western Aleutian Islands with hurricane-force winds on Saturday evening, rapidly intensifying in the process.
Winds have gusted to 122 mph (196 km/h) at Adak Island, Alaska, on Saturday night.
Further strengthening is forecast to occur once the storm enters the Bering Sea, potentially breaking the intensity reached by ex-Super Typhoon Nuri in November of 2014.
The Aleutian Islands and west coast of Alaska will continue to experience impacts regardless of whether the storm breaks the record strength.
Hurricane-force winds, which are sustained winds or gusts of 74 mph or greater, will howl across the western Aleutian Islands through Sunday. Gusts of 30-50 mph can be expected across the western Alaska coast on Sunday through Monday.
Large waves upwards of 40 feet should be anticipated, making it hazardous to navigate the waters of the Bering Sea.
Waves are not expected to be nearly as high along the west coast of Alaska, but they could be high enough to cause coastal flooding and erosion. Accumulating snow is also likely across this area.
Wind and waves will lessen early next week as the storm weakens off the coast of eastern Russia.