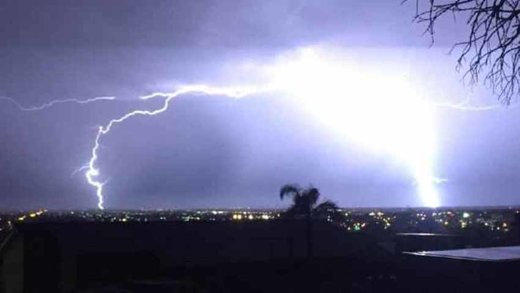 Trees came crashing down and some homes leaked as a thunderstorm and 140,000 lightning strikes lashed the state last night.
The State Emergency Service responded to 45 calls overnight, about a dozen of which were around the Gawler region north of Adelaide, where 14.2mm of rain was recorded.
State duty officer Sara Pulford said there had been no major damage reported overnight, but more people were likely to call the service as they noticed damage this morning.
"We had calls right across the state; obviously the storm pretty much pushed right across the state.
"Mostly trees were impacted, but obviously the thunderstorm in places caused some leaking."
Ms Pulford said the trees, still affected by the heat stress of the past few days, had been knocked around by the gusty winds and heavy rainfall.
She said some gutters had become blocked after leaves and bark had been blown about by strong winds the previous night.
"I'm not aware of any major damage," she said. "Even with the best intentions in the world, there will probably be a few blocked-up gutters."
The service's Edinburgh unit was busy for the second night in a row, with about a dozen call-outs in the northern Adelaide/Gawler area overnight.
Bureau of Meteorology duty forecaster Luke Johnston said there were 140,000 lightning strikes recorded around the state overnight, with "a lot of activity over the Eyre Peninsula, Yorke Peninsula and Mt Lofty".
He said 5.8mm of rain fell at Kent Town between 11pm and 1.30am, while 14.2mm fell at Gawler and 12.2mm was recorded at the South Para Reservoir.
"A lot of places around Adelaide recorded 5-10mm, but there was generally 1-5mm everywhere else," he said.
Cudlee Creek received 10.4mm of rain and 8.8mm fell at Roseworthy.
"We are not sure exactly how much rain fell on the Pinery fireground, but it's most likely it has been around the 5mm-10mm mark."
The highest wind gust recorded was 122km/h at Woomera just before 10pm last night, but Mr Johnston said it had not been particularly windy overnight.