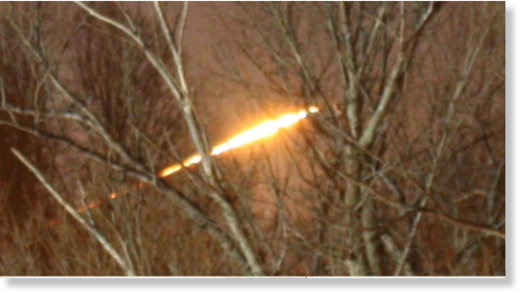 Some observant Nova Scotians were treated to an unexpected light show Sunday that left many in awe.
Reports of sightings were spread over a large area, with similar descriptions, leading many to think it was a meteorite.
Andrea Thompson of Onslow had just arrived home with her husband and daughter at 6 p.m.
"We were still in the car and facing toward Truro Heights," she said. "We all saw what looked like a massive fireball high in the sky. It was definitely something that was on fire and it burned up before 6:01."
The show lasted about 20 seconds.
"I would have had enough time to record it with my camera but I was in awe and didn't think of that until later."
She described it as bright orange and red, with a tail.
"Everyone says make a wish on a shooting star. I don't know what you're supposed to do on a meteorite."
But there
might be
a less celestial, more man-made explanation.
A spacecraft was launched from Cape Canaveral Sunday at 5:45 p.m. local time. The re-entry of a booster rocket from a Cygnus spacecraft, heading to the international space station,
could
have been visible over a wide area along the eastern seaboard.
"It looks like what people saw was the first stage from the NASA launch (Sunday)," said Randy Attwood, executive director of the Royal Astronomical Society of Canada. "It reenters the atmosphere and burns up."
It might not account for similar sightings, though, later in the evening.
Ron Francis of Truro was watching television when he saw something through his window at 8:35 p.m.
"It looked like a burning ball..." he said. "It was very large, with reddish and bluish areas, and a tail."
It went in the direction of the top of Young Street toward town, he said, and was only visible to him for one or two seconds.
Calvin Harvey was just coming off Hwy 104, heading into Barney's River, Pictou County between 8:30 and 8:45 p.m. when he saw a bright object with a long tail in the night sky.
"It was the largest object I've ever seen in the sky," he said. "I watch the sky when there are things like meteor showers but I've never seen anything that compares to this."
Michael Boschat, who works in the physics and atmospheric science department at Dalhousie University, was watching for debris and was able to capture an image on camera.
"I've been involved in astronomy for 57 years and this is the third rocket re-entry I've seen," he said. "I knew this launch was taking place and I just had a gut feeling I should look for it."
He was puzzled about sightings as late at 8:35 p.m., though, and said while other sections would have re-entered the atmosphere, he expected them to be too far away to be seen in Nova Scotia.
People also reported seeing bright objects in the sky in Eastern Passage, Trenton, Guysborough and Cole Harbour.