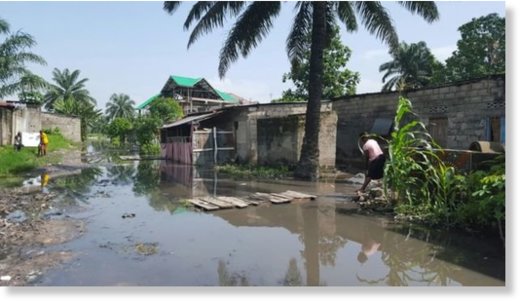 At least 31 people have died in Democratic Republic of Congo's capital Kinshasa in the last three weeks in the worst flooding in years, the provincial interior minister said on Tuesday, warning conditions could get even worse.
The deaths since Nov. 17, concentrated in neighbourhoods along the Congo River and its tributary, the Ndjili, have resulted mainly from home collapses, Emmanuel Akweti said.
The flooding has made 20,000 families homeless and inundated the main water collection station, preventing two-thirds of Kinshasa's communes from accessing drinkable water, he added.
An employee at the public water utility said officials hoped to resume service there by Thursday.
Kinshasa, a sprawling city of more than 10 million people, has notoriously poor infrastructure, with improvised wooden shacks lining the waterfront and dirt roads that often flood with the first rainfall.
Akweti said that precipitation levels this rainy season - which runs from October to April - were unusually high with Kinshasa registering 450 millimetres (18 inches) of rainfall, or nearly a third of its annual average, between Nov. 17 and Dec. 6 alone.
He warned that weather forecasters were predicting above average rainfall through to February and urged all residents living in riverside areas to evacuate.
Congo's government has invested considerably in Kinshasa's infrastructure in recent years, but critics complain that the upgrades have almost exclusively targeted the city's upscale neighbourhoods and prominent landmarks.