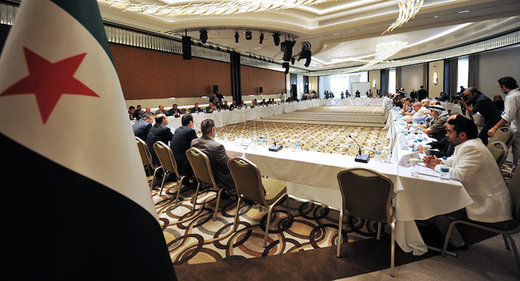 The so-called Syria opposition groups have begun talks in the Saudi capital, Riyadh, in an
effort to reach a common ground before potential negotiations with the government of President Bashar al-Assad.
Saudi Press Agency (SPA) said opposition groups from inside and outside Syria took part in the first round of the meetings on Wednesday.
Saudi Foreign Minister Adel al-Jubeir opened the meeting and welcomed the delegates. He then left the closed-door meeting and the groups started the negotiations, which are expected to continue until Thursday.
Saudi Arabia invited 65 Syrian opposition figures to attend the meeting in Riyadh. Members of two militant groups calling themselves Ahrar al-Sham and Jaish al-Islam are taking part in the conference. A number of groups fighting under the umbrella of the so-called Free Syrian Army are also attending the meeting.
A Syrian Kurdish group that has taken control of areas in north Syria said it has not been invited to the Riyadh meeting. The Kurds, however, organized a separate meeting in Syria's Hasakah Province. The Riyadh meeting is aimed at welding the so-called opposition groups into a unified team for potential talks with the Syrian government in early January.
The meeting came after two rounds of international talks on the conflict in Syria were held in Vienna on October 30 and November 14. The participants agreed in the last negotiations to meet again in "approximately one month" to review progress toward a ceasefire and the start of a political process in the violence-scarred country, according to a closing statement.
Earlier this month, Iran's Deputy Foreign Minister Hossein Amir-Abdollahian said any "sideline talks" held in parallel to the international negotiations on the Syrian crisis in Saudi Arabia would constitute a violation of the Vienna agreement. He noted that such moves would only derail the political attempts meant to solve the Syrian conflict.