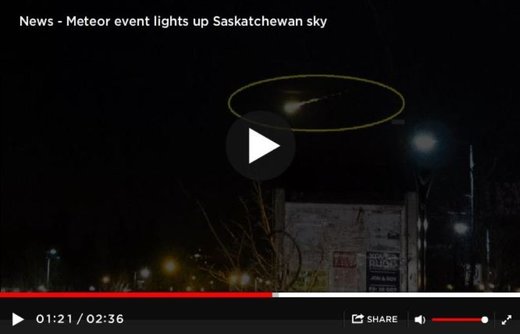 Were you lucky enough to see a meteor streaking across the Edmonton sky on Monday evening? If not, the Global Edmonton's SkyTracker camera on top of Manulife Place was and caught the shooting star as it happened.
Reports of a meteor over the capital region started coming in shorting after 5:00 p.m.
The Global Edmonton SkyTracker camera was facing southwest, with the High Level Bridge in the bottom left hand corner of the shot. At 5:08 p.m. a fire ball can be seen for about 45 seconds over the south horizon before it either burned out, or was covered by clouds near the horizon.
Earth is in the midst of one of the most active meteor showers of the year right now,
although it's not clear if the flash originated from the same astronomical event.
The Geminid meteor shower is active from Dec. 4 to Dec. 16, and is usually most visible after 10:00 p.m. In this case, the sun had not yet completely set, and the sky was still quite light.
Ryan Hastman was driving home with his son on Monday and had just finished explaining to him where the sun rises from and where it sets.
"Just as I pointed out that the sun had gone down in the west sky, we saw a streaking bright light streak across the sky from east to west," Hastman tells
Global News
.
"It stayed in our vision for at least eight to 10 seconds."
The following video was captured in Edmonton just after 5 p.m. and posted to YouTube.
The light was seen in Calgary at the exact same time, as well. Neil Zeller, a Calgary based-photographer was driving north on Crowchild Trail shortly after 5:00 p.m. when he saw the flash over Calgary's north west.
"It actually looked like it came through the clouds which kind of surprised me. It was a very green meteor and I didn't see it burn out because it went behind some trees."

Ironically, Zeller has seen hundreds of meteors through his work as a nature photographer.

"It did seem like other meteors that I had seen. It was slower moving than most, but I've seen slower moving and longer lasting. It was quite impressive."
He was sure of what he saw.
"As a night photographer, I did think that it was a meteor. What seemed weird to me was that it wasn't dark out completely, and it was in an area where there were clouds. So I'm not sure if it was below the clouds or just so bright that it shined through the clouds."
Clear skies are forecast for Monday night, meaning conditions to see another meteor are quite favourable.
Meteors are not the only thing that could delight sky watchers Monday night. The Northern Lights for early Tuesday morning are forecast to be moderately visible in central Alberta, and likely to be visible in northern Alberta.
Editor's note: Global News has reached out to the Royal Astronomical Society of Canada, Edmonton Centre to confirm the sighting. Edmonton police have confirmed Air 1 was not flying at the time.