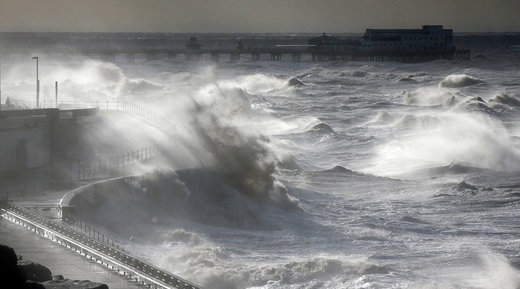 A man has died as Storm Desmond tore through Britain, bringing strong winds and heavy rain which caused Cumbria to declare a major incident.
The 90-year-old man, who died near Finchley Central station, north London, is believed to have been blown into the side of a moving bus by a gust of wind, a Scotland Yard spokesman said.
The Environment Agency declared 130
flood warnings
, while residents in parts of Cumbria were evacuated from their homes.
The deluge left streets lined with terraced houses looking more like rivers as rescue teams set off in rubber dinghies to rescue stranded locals.
Bridges collapsed, rivers burst their banks and landslides were triggered as torrential rain swept through large swathes of the north of England and Scotland.
Prime Minister David Cameron said on Twitter: "My thoughts are with all affected by Storm Desmond. Teams are working to ensure swift response and help for those who need it."
Cumbria was the among the worst affected by the onslaught, and British Red Cross teams set up rest centres in Keswick, Appleby and Kendal, while medical groups issued an urgent call to draft in extra doctors amid fears the storm could cause casualties.
The village of Braithwaite was left "isolated" after the flooded river swept away the main bridge connecting it to the rest of the county.
Geoff Mawdsley, owner of the Coledale Inn, where many locals were seeking refuge for the night, described a "raging torrent going into the village" and said that a wall of the Coledale High Bridge had simply "gone".
Adrian Holme, from Cumbria Fire and Rescue Service, told the
BBC
the flood is
"unprecedented" and "exceptionally challenging"
.
He said it was "absolutely devastating", adding: "The flood defences that were built here in 2012 haven't been breached, they have been over-topped.
We have had 24 hours of constant rain
."
He added: "This is absolutely devastating for the town of Keswick. As you can see behind us, the water is huge and there are hundreds of properties that have been devastated and flooded. And some of these people have been flooded three times, our hearts must go out to them."
It is believed that more than 100 people were evacuated from the town.
Flooding and landslides also brought disruption to Scotland, and homes were evacuated as rivers burst their banks in the Borders and Tayside.
And hundreds of homes in Wales were reportedly left without power as strong winds battered power lines.
David Hallows, emergency response manager for North Wales, said: "We would advise anyone whose area could be affected by Desmond to prepare a grab bag of essential items they can take with them if required to evacuate at short notice. This should include warm clothes, a torch and insurance documents."
A fire and rescue crew had to save a member of the public who was found clinging to a tree after they had tried to reach a horse stranded in a flooded field in Northumberland before being swept away by the flood water.
The RSPCA had to call off their attempts to rescue the creature because of the strength of the flood.
Marco Petagna, a senior forecaster at the
Met Office
, said parts of Cumbria and Lancashire had been hit with more than a
month's worth of rain in just 24 hours - and warned more was on the way
.
The village of Shap in Cumbria had the most, with 178.2mm of rain falling in the 24 hours until 7pm on Saturday night, while Keswick was hit with 156.4mm over the same period. The average rainfall for Cumbria for the month of December is 146.1mm, he said.
He added: "There is still the potential for more rain to come overnight, potentially another 100mm in the Lake District over the next 12 hours.
"To have this amount of rainfall in that short space of time is very unusual."
He said the weather in the North West should improve today, but fresh downpours are forecast for Monday and another weather warning has been put in place.
Northern England has been hit by gusts of up to 80mph - powerful enough to overturn lorries and tear branches from trees and tiles from roofs.
And London was hit with 50mph winds.
It is the fourth named storm to hit Britain in the past few months.
The Royal National Lifeboat Institution deployed its rescue team to help with the response in Cumbria.
Poor weather conditions have affected power supplies across the north of the country, with
Electricity North West
reporting cuts in parts of Cumbria, including Carlisle and Keswick, through Lancashire and down to Manchester.
A spokesman for the company said the problems are partly due to flooding, as well as power lines being brought down by high winds.
He said: "We have been restoring supplies in areas throughout the day and are working with local authorities and emergency services."
Press Association 2015