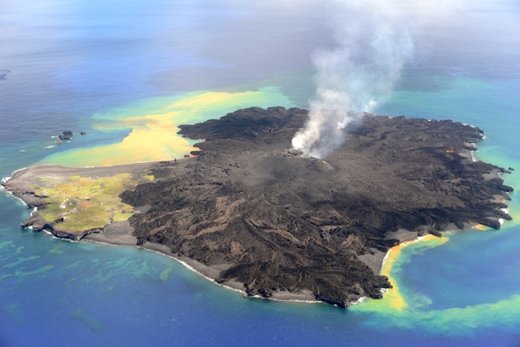 It's not exactly a Pacific beach resort just yet, but the Japanese Coast Guard reports that a volcanic island that first popped up in the middle of the ocean two years ago has already grown to twelve times its initial size.
Molten rock cooled by the ocean first poked out of the water in November, 2013, when it was initially spotted next to island Nishinoshima, which it eventually grew to engulf.
The new islet Nishinoshima is about 1,000 kilometers (621 miles) south of Tokyo and now measures about 1.2 miles roughly square and up to 328 feet tall, according to
Japan Today
.
Eruptions are still taking place from a crater in the center of the growing island, and continuous lava flows are still laying down new real estate. Scientists expect that volcanic activity on the island will continue for some time.
Take a look at how the island has grown in the video below: