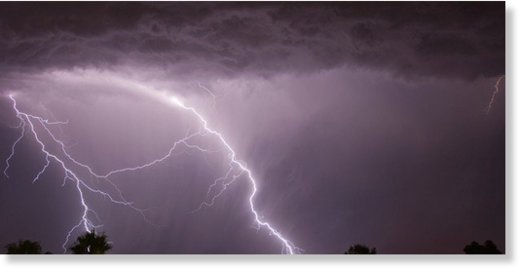 Five persons, including two women were killed and another one injured after being struck by lightning in separate incidents at four districts of Rajasthan during sudden rains and thundershowers, police said today.
All the victims were working in agriculture fields at the time of the incidents yesterday, they said.
In Bharatpur district, Dinesh Gurjar (25) and Sampat Mali (35) were struck down by lightning at Methna and Govindpur village respectively. Ramji (55) too was killed in a similar incident at Mathhingota village in Dholpur district, they said.
In Dhablana village of Bundi district, a woman named Bhuri Bai Meghwal (45) was killed, while another woman Panabai Meena (50) was injured after being struck by lightning, police said.
The injured was rushed to a government hospital, where her condition was stated to be stable, they said, adding a 50-year-old woman named Surjo was another victim of lightning in Piplet village of Sawai Madhopur district.
Low to moderate rains occurred in east Rajasthan as Rawatbhata recorded maximum rainfall of 5.1 mm while Sawai Madhopur, Kota and Bundi received 5 mm, 1.7 mm and traces of rainfall respectively till 8.30 am today, a MeT Report said.
Due to upper air cyclonic system, mercury rose by one to three degrees Celsius in east of Rajasthan while Mount Abu recorded the lowest temperature of 7.4 degrees Celsius last night.
Pilani recorded a minimum temperature of 8.4 degrees Celsius, Sriganganagar and Sikar 8.8 degrees Celsius each, Jaisalmer and Churu 9 degrees Celsius each, Bikaner 12, Jodhpur 12.1 degrees Celsius, Ajmer 12.5 degrees Celsius and Jaipur 15.4 degree Celsius.
Isolated rains are expected to occur in east Rajasthan in the next 24 hours, a MeT forecast said.