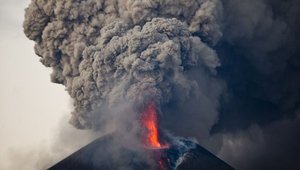 Thousands of people in Nicaragua have been asked to evacuate an area of about four miles surrounding the Momotombo volcano after it erupted for the first time in 110 years spewing lava, ashes and smoke.
"The seismic tremor is increasing and in the volcano's crater there are explosions every four seconds," said Wilfried Strauch, a scientific adviser for the Nicaraguan Institute of Territorial Studies or INETER.
Strauch said that scientists at INETER have detected a flow of lava in the depths of the volcano and that it is overflowing toward the northern end of it.
The institute said activity could continue to increase and recommended the local population to move away at least four miles from the Momotombo.
The volcano, which has an altitude of close to 1,300 meters or 4,265 feet, is located in the northern side of the Managua or Xolotlan lake.
The volcano last erupted in 1905. In 1610, the Momotombo erupted so fiercely it forced the city of Leon to move.
The INETER said that the volcano on this occasion has spewed ashes over 3,280 feet into the air.
This Wednesday, the volcano also spewed red hot lava, a day after it emitted gas and ash.
A government spokesperson said that the lava was headed toward areas that are sparsely populated.