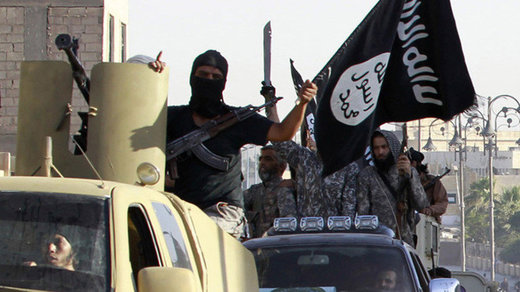 As Islamic State commits atrocities throughout Syria, the militant group continues to make money from human trafficking and sex slavery. RT spoke with three people who managed to flee the violence.
One woman spoke about the brutal acts committed by Islamic State (formerly ISIS/ISIL). "They cut off heads and kidnapped girls and women and took them to Raqqa. What were the slaves guilty of? This is a sin," she told RT.
A man spoke of the hypocrisy surrounding ISIS, recalling that while the group insists that females remain modest, they strip their slaves to make money. "
They forced women to be fully covered and never show any part of the body," he said. However, they made their slaves strip in order to sell them. Women are not allowed to show anything. If someone was caught on the streets during prayer, she would be given 100 lashes.
"
Another man recalled the kidnapping of Christian women and girls, as well as the destruction of churches. "They stole property and destroyed churches. Our Christian sisters were seized. Some of them were taken hostage and held for ransom,"he said.
Sex slavery and human trafficking has been a typical method of raising revenue for ISIS. Earlier this month, the remains of up to 80 enslaved Yazidi women were
discovered
in Iraq. The women were believed to be between the ages of 40 and 80, leading to speculation that the group was only after younger women.
A price list
verified
as authentic by the UN confirms the fact that younger is apparently better in the eyes of ISIS. The list showed that children aged one to nine years old are sold for about $165, while women over 40 go for as little as $41.
There have, however, been numerous reports of women fighting back against ISIS militants. A courageous Iraqi woman made headlines in September after a report emerged that she had
killed
the ISIS commander who kidnapped her and forced her to be a sex slave.
Other women unfortunately lost their lives fighting against ISIS. In August, the militants reportedly executed 15 women at Ghazlani military base near Mosul after the victims refused to marry terrorists. Another 19 women in Mosul were executed for the same reason in July. There have also been numerous reports of sex slaves committing suicide to escape their situation.
Aware of the horrible atrocities committed against women by ISIS, Canadian businessman Steve Maman
told
RT earlier this year that he is doing all he can to return victims to safety. This is done by negotiating the women's release by reasoning with the captors or refunding them the amount of money they paid for each slave. "We are not funding [ISIS or the captors], we are refunding them," Maman said.