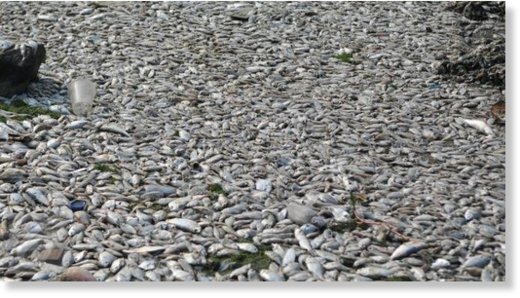 Following the finding of tens of thousands of dead fish, resulting in a pungent smell, along Ancol Beach in North Jakarta on Monday, environmental campaign group Greenpeace has cited three possible causes for the phenomenon.
The first possibility, Greenpeace campaigner Arifsyah Nasution said on Tuesday, related to the accumulation of water from contaminated rivers on the northern coast due to rain.
"For example, water from the Ciliwung River contains organic materials and [dangerous waste] B3. During rain, this water can accumulate in the estuary, which is Jakarta Bay," Arifsyah said as quoted by kompas.com.
He added that the situation could lead to a lack of oxygen for fish. "The fish would be unable to survive due to the change in environment happening too fast," said Arifsyah.
He also said that the increased growth of a certain algae species during the rainy season could have led to competition for oxygen between plants and fish.
The third possibility, he added, was due to the B3 that came from several industries nestled in the coastal area of North Jakarta.
"The waste thrown out by [these industries] and the circulation in the seawater could lead to the death of Jakarta Bay fish," said Arifsyah, adding that the group needed to conduct further research to make a conclusive confirmation.
Previously, Jakarta Police spokesperson Comr. Edi Guritno said that he had received reports from residents regarding seawater anomalies near Ancol Beach prior to the discovery of the dead fish.
"According to locals, the sea has two types of water: clear and brown-colored," said Edi on Monday, adding that samples of the dead fish and seawater would be examined at the city's fisheries laboratory.
According to a report by kompas.com, the police and Ancol Beach management conducted a clean-up operation from 7 a.m. on Monday to transport the dead fish, which consisted of various species, to a nearby incinerator.