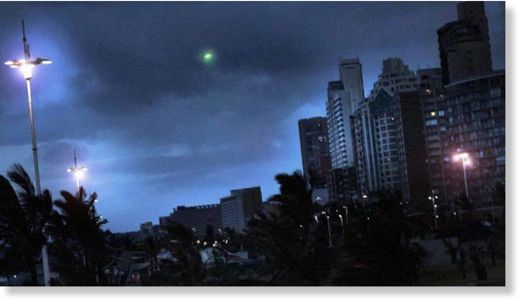 What was this mysterious green light striking the sky of South Africa on November 28, 2015?
The strange green light was spotted by hundreds of baffled residents from Durban, Cape Town and Johannesburg...
seems legit or its vfx 50/50 "@LiveMagSA WHAT WAS THAT? Anyone else see that green light flying over Soweto? #UFOSA pic.twitter.com/pZyl60dj7L"

— PhetogoTshepoMahasha (@PTMahasha) November 30, 2015
Hundreds of people reported through social networks a strange green light in the sky over Cape Town, Durban and Johannesburg at around 11pm on November 28, 2015.
Many photographed and recorded the spectacular phenomenon.
The strange green light remained static for a few seconds, and then started moving at high speed before disappearing.
So what was this mysterious light?
I would go for a green meteor/ fireball disintegrating.