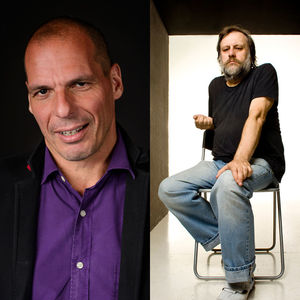 With the recent economic crisis in Greece, unprecedented challenges to centralized European policy, and the lack of consensus on the ongoing refugee crisis, many would agree that Europe faces its greatest ever predicament.
Slavoj Žižek, regarded as 'the most dangerous philosopher in the West' (
The New Republic
), and Yanis Varoufakis, self-described 'erratic Marxist' and economic 'rock-star' (
Business Insider
and other publications), met in Croatia in 2013.
They have never appeared together on the public stage - until now. Take your seat to hear them discuss the urgent task of building a different and more democratic Europe.
The conversation explores the contradictions of late capitalism and some of the solutions that might just save the European project. It is moderated by Croatian philosopher Srecko Horvat and followed by a Q&A session.