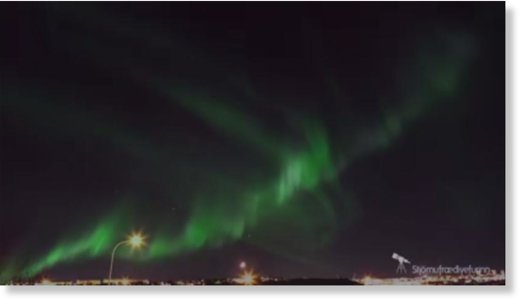 There were excellent viewing conditions for the Northern Lights last night at the same time as the peak of the Leonid meteor shower. Icelandic astronomy website
Stjörnufræðivefurinn
has published stunning footage of a meteor shooting seemingly through the Northern Lights.
The video, published first on the Facebook page of Stjörnufræðivefurinn was shot over Reykjavik last night and shows the Northern Lights cascading in the sky in real time. One minute into the video a meteor can be spotted and then it burns up in the middle of the Northern Lights display. Watching the video in HD is reccomended.
The Leonid meteor shower happens every year at this time, as our world crosses the orbital path of Comet Tempel-Tuttle. Like many comets, Tempel-Tuttle litters its orbit with bits of debris. It's when this cometary debris enters Earth's atmosphere, and vaporizes, that we see the Leonid meteor shower. In 2015, the peak night of the shower was from midnight to dawn on Wednesday.
See the video here below.