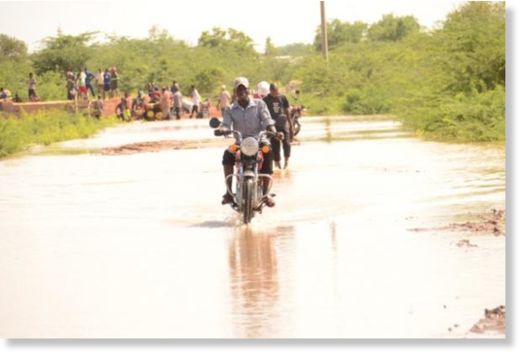 At least 4,040 families in Tana River county have been displaced by floods after River Tana burst its banks and flooded their homes.
No casualties have been reported.
Some victims said they have lost household property, food and livestock.
Kenya Red Cross Society Tana River and Kitui regional manager Gerald Bombe said on the phone the victims are camping in various sites in the three subcounties.
Bombe said the most affected areas are Madogo in Tana North subcounty, Masabubu and Gubani in Tana River subcounty and 14 villages in Tana Delta.
"We have already distributed non-food items to victims in Madogo and Masabubu, but we are still assessing the situation in Tana Delta, with a view to assisting victims," he said.
Bombe said Gubani village in Kinakomba ward, Galole constituency, had been isolated by floods, but his officers and those of the Tana River county government rescued villagers.
There were reports Waldena location in Galole constituency had been cut off after the level of the seasonal River Galole rose.
Bombe said the area is accessible as residents can still cross the river on foot.
If the rains continue, however, the residents could find themselves without food as the only road to the location passes through the seasonal river.
MCA Maka Jarso had earlier urged the government to send food before the onset of the rains.
In Hola, heavy rains that pounded the town and its environs on Saturday and Monday destroyed drainage systems.
Stagnant water could lead to outbreak of malaria and water-borne diseases.
Residents of Mikinduni ward wishing to reach the town centre have to board dug-out canoes at a fee after the only road to the area became flooded.
It passes through River Galole, less than one kilometre from the central business district.
"Residents on foot are charged Sh20 per trip while motorcycle operators pay Sh50 for themselves and their bikes," a resident said.
The floods are also said to have caused the closure of the only kitchen at the Hola County Hospital, forcing patients to buy food from outside.
Source: Kenya News Agency (KNA)