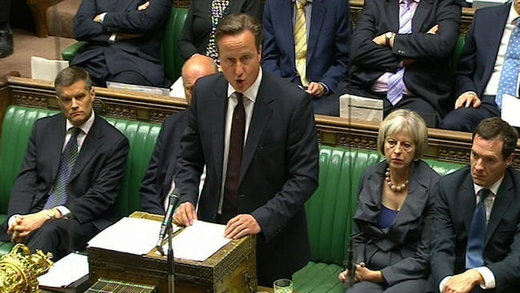 British Prime Minister, David Cameron,
has presented his Syria bombing plan
to lawmakers saying Britain should join airstrikes against the ISIL terrorist group in the Arab country. "I believe that we should now take the decision to extend British airstrikes against ISIL into Syria," Cameron told MPs on Thursday.
"It is wrong for the UK to sub-contract its security to other countries"
, he said while addressing the House of Commons.
During the speech, the premier said
the threats to British interests and people are such that the country cannot afford to stand aside and not to act.
He said there have been
seven terrorist plots in the UK in the last 12 months.
Cameron's call is in response to a recent Foreign Affairs committee report on airstrikes as well as recent deadly attacks in the French capital, Paris.
The UK is already part of a US-led anti-Daesh coalition but its air unit is restricted to target the terrorist group inside the Iraqi territories.
The government argues it is illogical to restrict action to Iraq as ISIL does not recognize the border between the countries.
The Labour leader Jeremy Corbyn who is a veteran anti-war campaigner seems remaining against any action in Syria but he is under pressure to offer his MPs a free vote. On Thursday, he reiterated his opposition saying "he is reluctant to support strikes without the approval of political plan for Syria".
Cameron, who lost a vote on Syria airstrikes in 2013, needs to persuade several lawmakers in his own Conservative Party as well as some opposition members to back his cause if he is to win parliament's backing for military action.
Breaking with a British political tradition of using a "party whip" to keep party discipline, a Labour spokesman said the party is considering allowing its lawmakers to vote as they wish, which may increase support for Cameron.