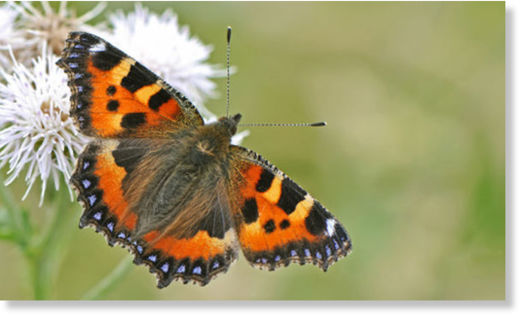 Researchers say 15 species of native butterfly have shown downward population trends associated with neonicotinoid use.
The chemicals - known as "neonics", for short - have been thought to harm birds, bees and other wildlife, but this is the first time there has been scientific claims they may be contributing to the decline of butterflies.
Over the past decade, once widespread butterflies have disappeared at the rate of 58 per cent across English farmland. Details of a study based on findings gathered by volunteers from across more than 1,000 UK sites as part of the long-running UK Butterfly Monitoring Scheme (UKBMS), recorded declines in species such as the small tortoiseshell, the wall butterfly and small skipper.
"Our study not only identifies a worrying link between the use of neonicotinoids and declines in butterflies, but also suggests that the strength of their impact on many species could be huge," warns ecologist Dr Andre Gilburn of the University of Stirling, who led the study.
The study, which was carried out by the Universities of Stirling and Sussex in partnership with Butterfly Conservation and the Centre for Ecology and Hydrology, is published today in the journal
Peer
J. Dave Goulson, Professor of Biology at the University of Sussex, added: "Many of us can remember a time when our meadows and hedgerows had far more butterflies, bees and other insects than today.
This study adds to the growing mountain of evidence that neonicotinoids are one of the causes of these declines."
At Butterfly Conservation, the British charity devoted to saving butterflies, moths and their habitats throughout the UK, the study has led to calls for more research into intensive farming. Neonicotinoids are a relatively new type of pesticide and works in the same way as nicotine, a naturally produced defensive measure developed by certain plants.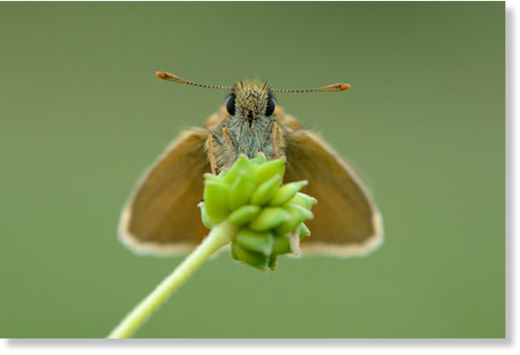 The pesticide can be applied to the roots of crops, as a seed coating or soil drench, or sprayed on foliage and it protects plants by affecting the central nervous system of insects, causing paralysis and death.
There are fears that the chemicals can be absorbed by wild flowers used by insects for nectar as well as a food for their caterpillars.
The EU banned them for use on flowering crops in 2013, but the UK Government has exercised its right to allow them to be used on oilseed rape in parts of the country. Dr Tom Brereton, head of monitoring at Butterfly Conservation, said: "We are extremely concerned with the findings of the study and are calling for urgent research to see whether the correlations we found are caused by neonicotinoid use, or some other aspect of intensive farming.
"Widespread butterflies have declined by 58 per cent on farmland in England over the last 10 years, giving concern for the general health of the countryside and for these and other insects in particular." The invertebrate conservation charity, Buglife, says a study published earlier this year found that dust levels on plants near arable fields were high enough to cause sub-lethal effects in caterpillars of the Monarch butterfly.
Another study, it says, also found mobile dust with a high concentration of neonicotinoids on the surface of fields that had not recently been treated with neonicotinoids, suggesting that toxic dust is spread far and wide in the environment. This, it says, would explain why neonicotinoids are affecting the national populations of butterflies despite most of them not living directly adjacent to arable fields.
"Clearly the use of neonicotinoid seed treatments has been an unmitigated ecological disaster," said Buglife chief executive Matt Shardlow. "It is such a shame that the Government continues to support their use when the time has clearly come to extend the ban on seed treatments to cover all crops, not just Oilseed rape."