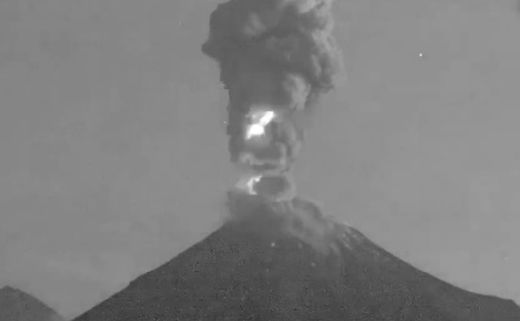 Mexico's Fire Volcano is continuing its rampant activity spitting out ash and instilling fear in both locals and visitors to breathtaking effect. Webcams de Mexico has captured the latest stunning Colima volcano activity.
A moderate explosion recorded Tuesday, shows the crater of one of the most deadly volcanoes in the world slowly steaming away when it suddenly erupts, sending debris into the air.
The heated material than falls on the slopes as flashes of volcanic lightning are seen before the ash is whipped up by the wind. After the blast, which happened early Tuesday, the plume from the eruption spread roughly one kilometer into the air. Further eruptions saw the plume reaching roughly 2.5 km into the air.
The volcano continues to remain restless, after being home to a powerful eruption on November 16. On this date, the plume of smoke and ash from the Fire Volcano reached some 3,000 meters into the air. Webcams de Mexico also offers footage of the spectacular explosion.
Since Colima's continuous activity started in July, several precautionary evacuations have been ordered. It was previously active in January and February of 2015. The Colima volcanic complex is the most prominent volcanic center of the Mexican Volcanic Belt. It consists of two volcanoes: Nevado de Colima towering 4,320 meters high in the north and the 3,850-meter-high Volcán de Colima in the south.